Ingredients
to make 4 portions.
For the cooked beetroot:
1 medium raw beetroot 
1 small raw Suede                        
1 pinch of salt                                        
For the salad:
2 punnets Shiso Purple
2 punnets Brocco Cress
For the dressing:
350 ml red wine
50 gr grated raw beetroot
1 punnet Shiso Purple
2 tbsp soya sauce 
1 tsp yuzu juice
1 tsp Shiso Purple Vinegar 
Method
Using a Japanese mandolin, lay a long fine strip of beetroot on the table.
Add on top of it a long fine strip of raw suede.
Roll to make a 3cm diameter roll and cut throughout the middle , repeat the process twice.
Cook steam the 4 rolled pieces standing up in a silicon mold and reserve.
Mix the together the freshly cut cresses in a bowl.
Pour all the ingredients in a saucepan and let reduce by half.
Let cool down and pass the dressing via a fine sieve.
Fill 4 little test tube to serve with the dish.
Dress all the elements of the dish and sprinkle with some Zallotti Blossom flowers.
Serve.
Recipe: Franck Pontais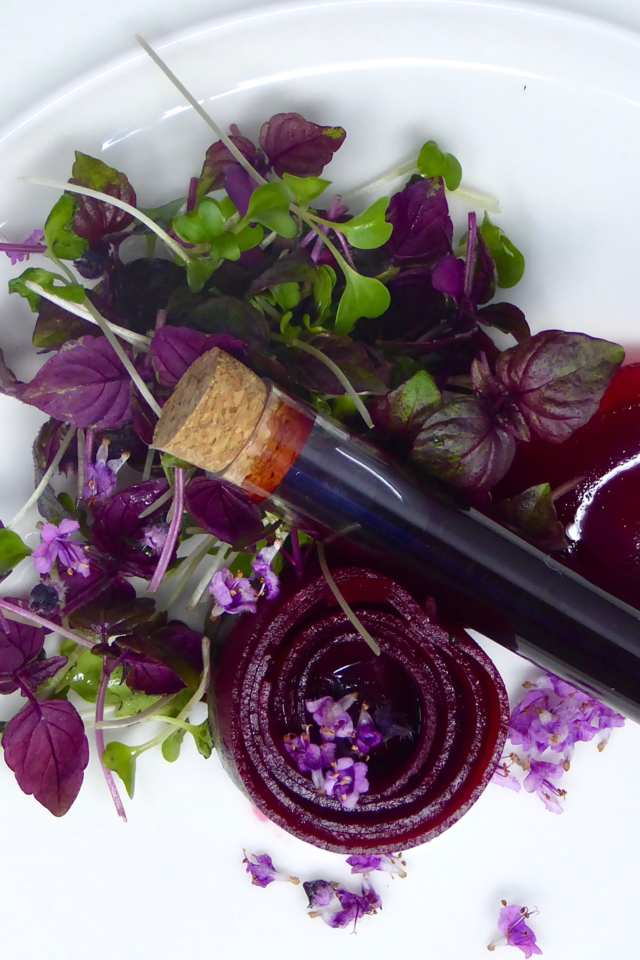 Related recipes
Gastronomical masterpieces
Related products
Say yes to the cress