Loin of Limburg monastery pig lacquered with Betuwe apple syrup
Loin of Limburg monastery pig lacquered with Betuwe apple syrup, puffed Betuwe Rubens apples, two colored carrots and green asparagus in Livar pork belly.
Ingredients
(For 4 servings)
500 g Livar pork loin from the Monastery pig
2 tbsp Betuwe apple syrup
2 small Betuwe Rubens apples
6 slices of Groningen gingerbread
3 tbsp calvados
8 blanched green asparagus
8 slices of lightly smoked Livar pork belly
300 g purple carrot
300 g of yellow carrot
Apple Blossom
pepper
salt
Method
Fry the loin well on all sides and then sprinkle with salt and pepper. Now cook it in a 75°C oven with a core temperature of 62°C.
Drill the core of the apples and mix three slices of gingerbread with calvados and three tbsp water. Now fill the apples with the gingerbread and roast them in the oven for 8 minutes. Dry the remaining gingerbread in an oven at 70°C until crispy and grind it into powder in a food processor.
Peel both carrots, cook them separately in a little water with salt and mash them separately in a food processor. Season them further and put the puree in a piping bag.
Cut the asparagus in three and roll them in the pork belly and set upright. Put it in the oven for a while to finish.
Coat the pork loin with the apple syrup and portion. Now finish the plate and garnish with Apple Blossom.
Drink suggestion: G.D. Vajra Barbera d'alba D.O.C.
Recipe: Pascal Eldijk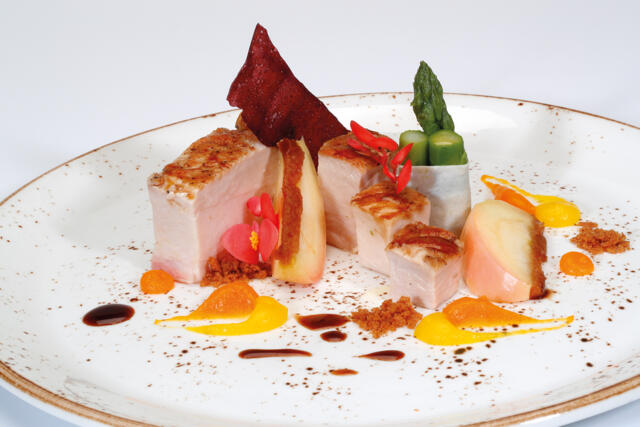 Related recipes
Gastronomical masterpieces
Related products
Say yes to the cress