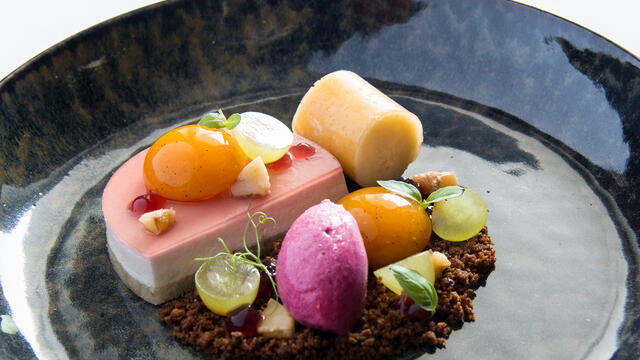 Buttermilk, honey, kombucha
The 24-year-old Lena Wunder is responsible at restaurant Wilder Ritter for the very feminine desserts that can delight you.
Ingredients
apricot
Basil Cress
tops of Affilla Cress®
For the honey chibouste:
200 g of milk
70 g egg yolk
20 g cornstarch
10 g of leaf gelatin
160 g of protein
100 g of sugar
50 g of water
100 g of honey
ascorbic acid
lime juice and grater
40 g of Prospuma cold
For the muscovadocrumble:
50 g of butter
50 g muscovado sugar
50 g of almond powder
50 g of flour
malt powder
For the dried plum jelly:
5 dl steamed plum juice
40 g quetsch vinegar
20 g of sugar
1.5 leaves of gelatin per 1 dl
For the buttermilk mousse:
375 g sour cream
375 g buttermilk
10 leaves of gelatin
600 g of cream
lime zest
vanilla marrow
100 g of sugar
xantana
For the grape gel:
200 g of reduced grape juice
1 dl kombucha
ascorbic acid
agar
For the plum kombucha sorbet:
1 kg of plum puree
278 g of kombucha
180 g of sugar
6 leaves of gelatin
5 g of gelespessa
For the cannelloni:
150 g fondant
40 g of butter
100 g of glucose
10 g walnut puree
For the walnut financier:
250 g of almond powder
130 g of walnut powder
240 g flour
700 g of powdered sugar
655 g of protein
20 g walnut puree
20 g lemon juice
350 g of brown butter
Method
For the chibouste, make an anglaise of the milk, yolk, cornflour and gelatin. Make an Italian foam of the egg white, sugar, water and honey, spatula under the anglaise with the other ingredients and fill a siphon. Aerate with two cartridges.
Make a crumble with all ingredients and bake in the oven at 160°C for 8 minutes. For the jelly, boil the liquids with sugar, dissolve 1.5 sheets of gelatin per 1 dl in the mass and reserve.
Make a mousse of all ingredients, pour the crumble into a small form, fill with the buttermilk mousse and gel with the plum jelly. Make a gel from all ingredients.
For the sorbet, bring the puree to a boil, dissolve the gelespessa and gelatin, add the kombucha and turbine.
Mix all the ingredients for the cannelloni, spread thinly on a mallet, bake in the oven at 120°C for 5 minutes and fold warm around a tube. Stir all the ingredients for the financier smooth and bake in the oven at 170°C for 12 minutes.
Dress all the components around the tartlet and spoon in the sorbet.
***

Hotel Ritter
Tal 1 – Durbach
An der Badischen weinstrasse
www.ritter-durbach.de
T  0049 781 9323293
Recipe: Lena Wunder
Source: Pâtisserie & Desserts - 48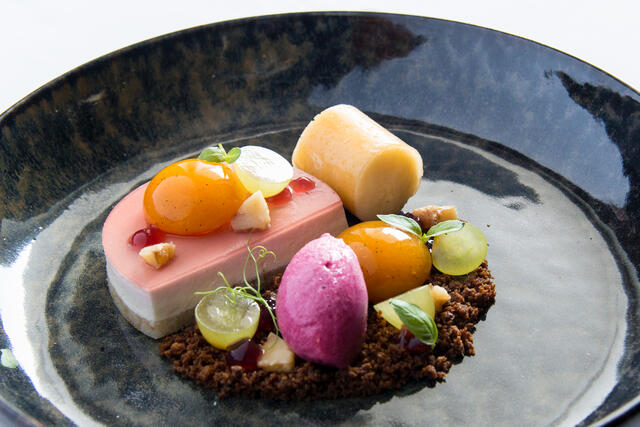 Related recipes
Gastronomical masterpieces
Related products
Say yes to the cress