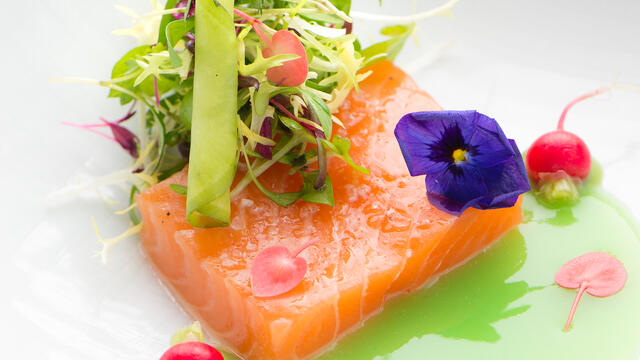 Pickled artic charr with apple-horseradish broth
The kitchen of Haus Stemberg also symbolizes the family of simple hard-working people who fully propagate gastronomy here every day.
Ingredients
Apple Blossom
Cornabria Blossoms
For the pickled artic charr:
1 kg of skinless artic charr fillets
70 g of sea salt
70 g of powdered sugar
40 g chopped flat leaf parsley
40 g chopped dill
zest of 1 lemon
10 bruised black peppercorns
1 bay leaf
4 g coriander seeds
4 cl gin
4 cl tonic
For the cold apple horseradish broth:
1 l apple puree
3 dl vegetable stock
xantana
citric acid
salt and pepper
calvados
5 dl apple juice
fresh horseradish
1 cup of Limon Cress
For the herb salad:
100 g seasonal salad (Stellaria media, dead-nettle)
1 cup of Mustard Cress
1 cup of Shiso Purple
1 cup of Tahoon® Cress
rapeseed oil
juice of 1/4 lime
mild apple cider vinegar
sugar
mustard
salt and pepper
Method
For the brine, mix the bay leaf, coriander and pepper finely, add the remaining ingredients and spread evenly over the skin side of the fish.
Cover with plastic wrap and leave to marinate for 2 to 3 hours, depending on the thickness. The fish should not become too dry. Remove the marinade with a damp cloth, cut into 80-gram portions and reserve at room temperature.
For the stock, mix all liquids with freshly grated horseradish and Limon Cress in the blender, season and pass through a fine sieve.
Season the stock with citric acid and bind with the xantana until slightly syrupy. For the salad, mix all herbs and lettuce varieties and mix with the ingredients for the dressing.
Spoon the stock into a deep plate, place the brook knight in it and dress the herb salad with it. Garnish with a few leaves of the Apple Blossom and an edible violet.
***
Haus Stemberg
Kuhlendahler Strasse 295 - Velbert-Neviges
0049 205 356 49
www.haus-stemberg.de
Recipe: Sascha Stemberg
Source: Culinaire Saisonnier 80 - Spring 2016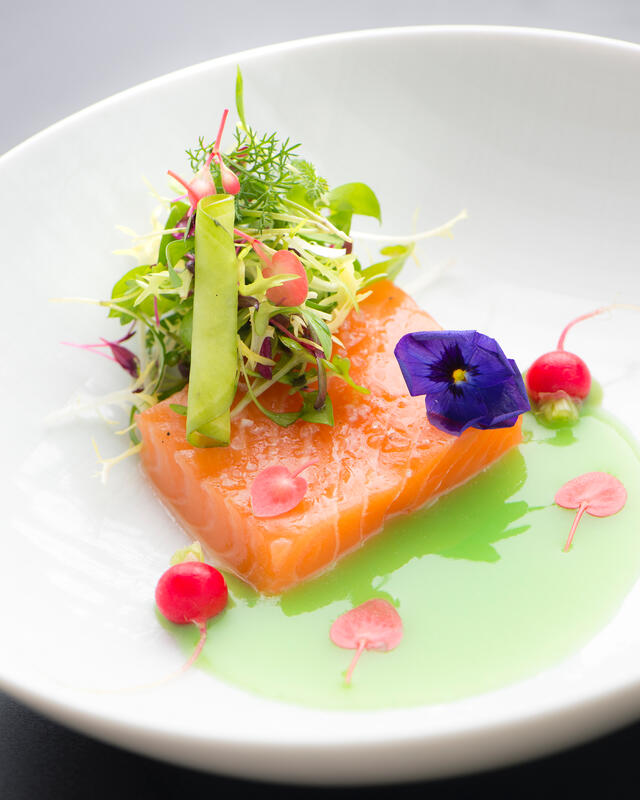 Related recipes
Gastronomical masterpieces
Related products
Say yes to the cress