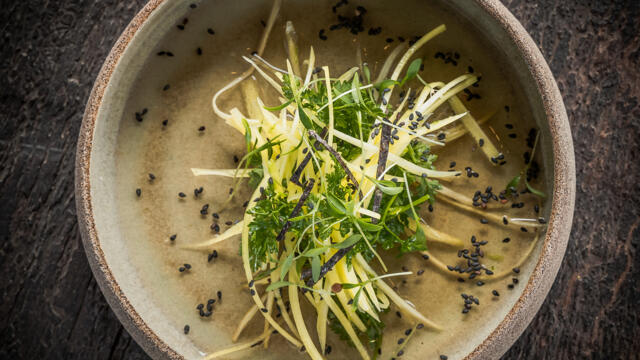 Yellow carrot and chervil salad with nori, sesame and ice tea
,
Frank Fol – The Vegetables Chef®
Ingredients
(For 4 portions)
4 yellow carrot 
40 gr fresh chervil 
1 sheet of nori 
1 lime 
Loose Tea of ​​your choice, Mist Theas 
Black sésame seeds 
1 cup of Ghoa Cress
Arqan argan oil 
Black pepper 
Coarse sea salt 
Method
Ice tea: 
Let tea steep in 2 cups of water. 
Pour through a sieve. 
Place in the refrigerator.
Salad: 
Peel, wash and cut yellow carrot into fine slices. Then cut into threads. 
Mix carrot with some fresh chervil. 
Season with some sea sweet and black pepper. 
Finish: 
Divide the salad among the four plates. 
Pour some cold tea into the plates. 
Cut the nori into strands of about 5 cm. Place some threads on each salad. 
Sprinkle with some sésame seeds. 
Cut the cresses and also sprinkle on the salads. 
Finish with a few more drops of roasted argan oil flavor. 
Recipe: Frank Fol - The Vegetables Chef®
Photo: Wim Demessemaekers, Photographer | @wim_dmskrs
Preparation time: 20 minutes
Techniques: raw, broth, roasting 
Plate: Wild Moon medium deep ceramic 
Recommended drink: Sparkling wine - Winery Valke Vleug, Scheldeland – Belgium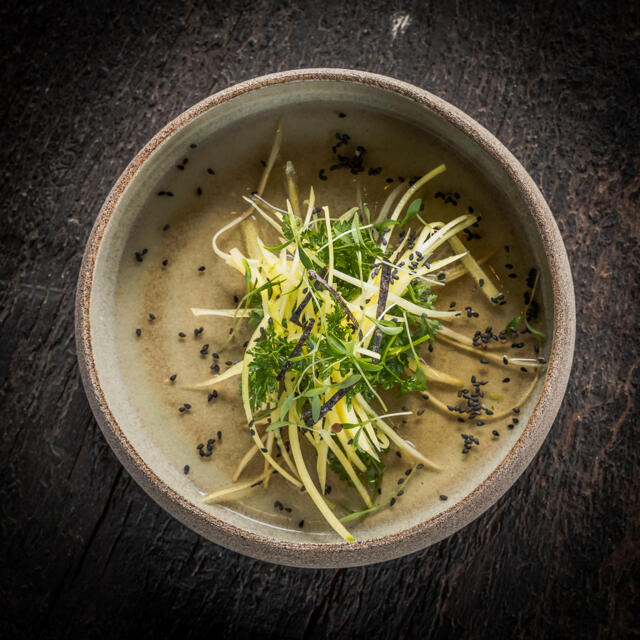 Related recipes
Gastronomical masterpieces
Related products
Say yes to the cress