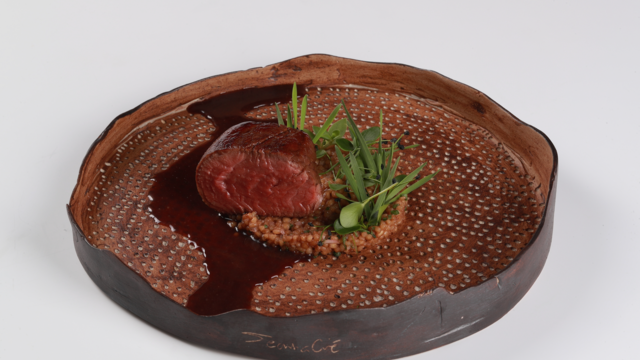 Fillet of beef, wheat barley and Wheat Grass
Sousvide cattle tournaments with veal jus and cresses/herbs depending on the season.
Ingredients
sousvide cattle tournaments 
​Spice (varnish):
200g balsamic vinegar 
150g sugar 
1 bay leaf 
2 pieces of juniper berries 
Pickled shallots: 
2 shallots 
50g sugar 
50 g white wine vinegar 
Barley: 
100g rolled barley 
150g chicken broth 
butter 
veal jus 
pickled shallot brunoise 
Rock Chives 
Wheat Grass 
Method
Vacuum the beef tournedos and cook at 54.5°C for 50 minutes. Take it out, let it rest briefly and then fry in a hot pan and roast the beef with a generous amount of butter. 
Brush with varnish, season with Maldon salt and portion. 
​Spice (varnish):
Bring everything to the boil and reduce until it has a paste-like consistency. 
Pickled shallots: 
Cut shallots in brunoise. Bring sugar and white wine to the boil with 50g of water and pour over the pour brunoise. Then let it cool down to room temperature. 
Barley: 
Melt the butter in a saucepan and sweat the barley a little, then add it to the pan.
Pour chicken broth and simmer or simmer until all the liquid has been absorbed. 
Then with a few flakes of butter, 2 teaspoons of shallot brunoise, veal jus and Maldon salt to taste.
Finally stir in the chopped Rock Chives and Wheat Grass. 
Recipe: Sandra Scheidl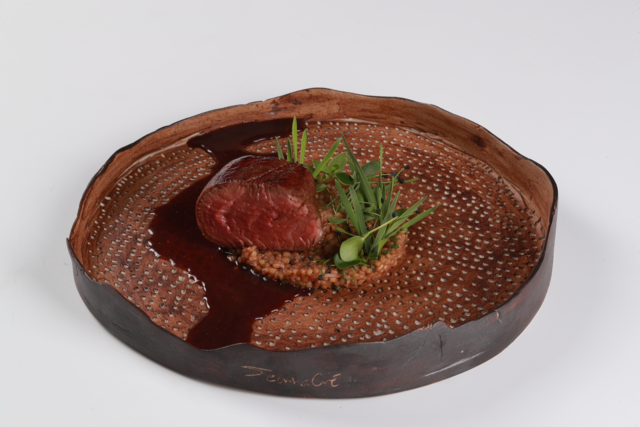 Related recipes
Gastronomical masterpieces
Related products
Say yes to the cress