Ingredients
(For 4 persons)
Curry crumble:
100 g self-raising flour
80 g butter at room temperature
2 tbsp curry powder
pinch of sea salt
Mashed Peas:
400 g peas (fresh or frozen)
rapeseed oil
black pepper from the mill and sea salt
16 thick asparagus
Garnishes:
50 g peas
1 cup of Affilla Cress
Method
Curry crumble:
Place all ingredients for the crumble dough in a bowl and mix by hand into a crumbly, grainy dough.
Sprinkle the dough over a baking tray and bake the dough in a preheated oven at 180°C for 15 minutes.
Mashed Peas:
Bring slightly salted water to the boil and briefly blanch the peas, including those in the garnish.
Remove the peas from the water with a slotted spoon and rinse under cold water.
For the puree, mix the peas with a dash of the cooking water, a dash of rapeseed oil, black pepper from the mill and sea salt.
Asparagus:
Steam them until crispy.
Spoon the pea puree over the plates, place the asparagus on top and finish with the peas, crumble and Affilla Cress.
TIP! The pea is a unique vegetable that we know in different forms: as a pod, as a sugar pea, as a young pea, and as a fully grown pea. But also a pea shoot or cress and pea flour are great to score with in the kitchen!
Recipe: Frank Fol - The Vegetables Chef®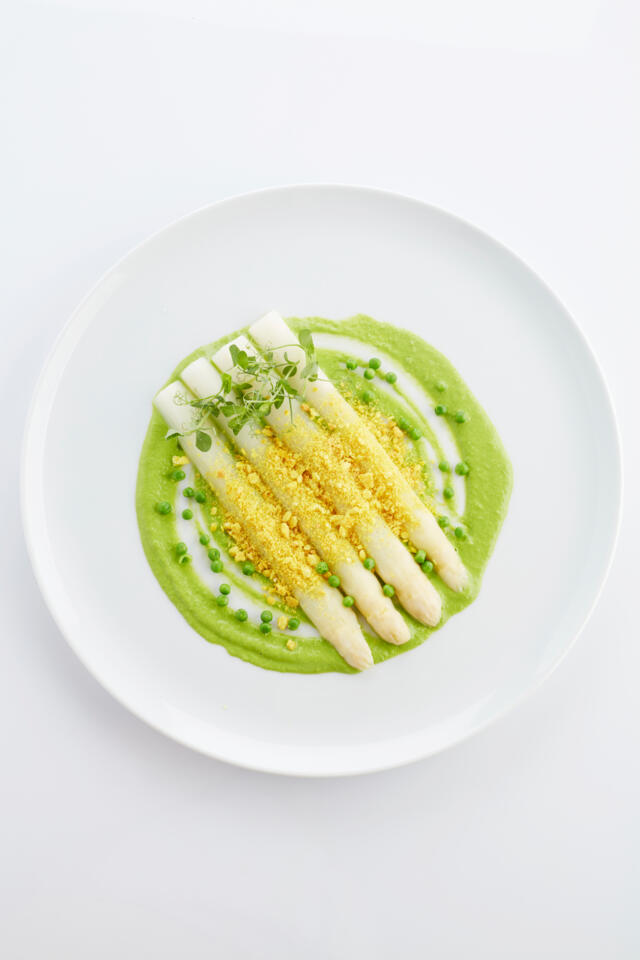 Related recipes
Gastronomical masterpieces
Related products
Say yes to the cress