Ingredients
(For 4 portions)
2 punnets Kyona Mustard Cress
4 duck legs confit   
4 medium baking potatoes 
1L duck stock  
200ml red wine  
100g butter
30ml rapeseed oil   
24 blackberries
4 purple spring onions     
2 pinches fine salt
1 pinch white ground pepper  
Method
Potato fondant:
Cut out the fondant from the potato with a round pastry cutter and season
Put the butter and oil in a hot saucepan and sear the fondant on both sides.
Add the hot duck stock in the pan and finish the cooking process in an oven on 180℃.
It should take around 30 to 40 minutes depending on the size of the potatoes.
Once cooked, remove the potato and set aside.
Duck and spring onions:
Trim the excess of fat from the duck leg confit, score the skin and reheat in a hot oven at 220℃ for 20 minutes. 
Once ready, take out of the oven and use the flame of a blow torch to make a burned effect on the skin.
Trim and steam the purple spring onions for 10 minutes.
Once cooked, cut the onion sideways into two, ready to serve.
Sauce and plate dressing:
Skim, pass and reduce the duck stock (from the potato fondant) to a demi glass.
Reduce the wine by half separately and add to the demi glass to make the sauce.
Reduce to the right consistency and season to taste.
Dress the plate using the freshly picked blackberries, the potato fondant, spring onion, duck leg, sauce and Kyona Mustard Cress.
Recipe: Franck Pontais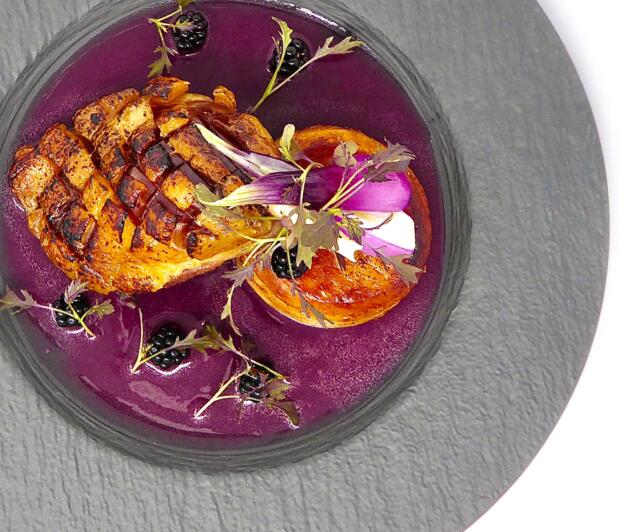 Related recipes
Gastronomical masterpieces
Related products
Say yes to the cress