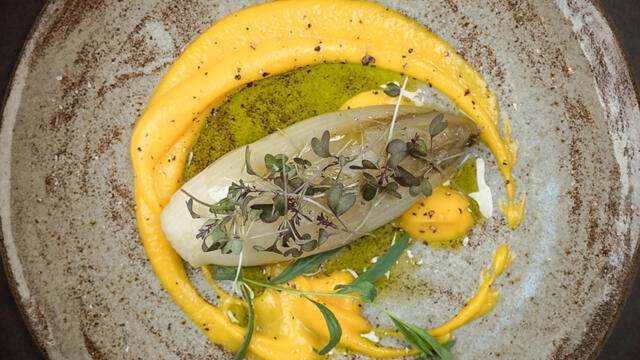 Ground chicory cooked in a broth of orange, pine cone, liquorice, tarragon and cloves
,
Frank Fol – The Vegetables Chef®
Ingredients
(For 4 portions)
4 sturdy stumps of ground chicory
1 orange
2 cloves Verstegen
Some pine cones from the forest (wash them)
1 stick of licorice root
Fresh tarragon
150 g BIO légumaise pumpkin with orange
Olive oil - Iluigi
Cup of Kyona Mustard Cress - Koppert Cress
Black pepper - Verstegen
Coarse sea salt - Verstegen
Method
Ground chicory:
Clean and wash the chicory. Prepare a broth with 3 orange zest, 2 cloves, a few pine cones, sea salt, black pepper, a few sprigs of fresh tarragon.
Place here in the chicory and cook under the lid.
Pierce with knife to check doneness.
This can take up to 45 minutes.
To finish off:
Spoon a sturdy scoop of warm légumaise artfully onto each plate.
Remove the chicory from the hot broth with a slotted spoon, dry on kitchen paper and place 1 stump in the center of each plate.
Finish with some sea salt, black pepper, Kyona Mustard Cress, sprig of tarragon and a few drops of olive oil and orange juice.
Recipe: Frank Fol - The Vegetables Chef®
Photo: Wim Demessemaekers, Photographer | @wim_dmskrs
Preparation time: 60 minutes 
Techniques: veggies 
Plate: Wild Grey Flat Plate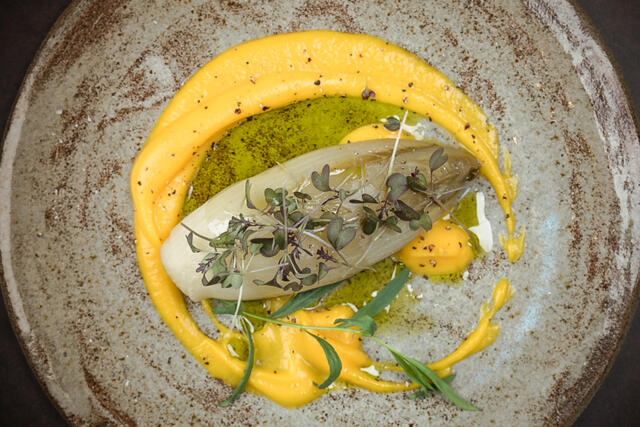 Related recipes
Gastronomical masterpieces
Related products
Say yes to the cress