Method
(For 4 bowls)
Ratatouille:
2 punnets Garden Cress
1 punnet Rock Chives
400gr courgette
400gr red pepper
400gr yellow pepper
400gr small aubergine
2 medium red onions
2 medium white onions
3 medium fresh tomatoes
1 tsp finely chopped garlic
1 medium sliced green chilli
1 tsp curry powder
150gr couscous
300ml boiling water
2 tbsp olive oil
4 tbsp plain yoghurt
Yoghurt bread:
300gr self-raising flour
300gr plain yoghurt
½ tsp baking powder
50gr melted butter
1 tsp finely chopped garlic
Ingredients
Ratatouille:
Peel and cut the peppers, aubergine, courgette, tomato, and onions into a cube of approx. 1.5cm. Pour the olive oil in a heavy saucepan and add the diced vegetables. Cook covered for 5 minutes, stirring from time to time.  
Add 150ml of water, the sliced green chilli, the freshly cut Rock Chives, the curry powder and cook covered for a further 20 minutes on low to medium heat. 
Pour the couscous into a bowl and cover with the remaining 150ml of the boiling water, cover the bowl with a plate and let absorb and rest aside for 10 minutes. 
Break down the couscous with the back of a fork to make it fluffy and mix in the freshly cooked ratatouille. 
Serve with the plain yoghurt, the freshly cut Garden Cress and the yoghurt bread. 
Yoghurt bread:
Mix the finely chopped garlic and butter. 
Mix the flour, baking powder and yoghurt. 
Form a dough and let rest for 2 hours in the fridge. 
Divide the dough into 8 to 10 small balls and lay with a roller pin. 
Cook each bread on a hot grill and brush with the garlic butter before serving. 
Recipe: Franck Pontais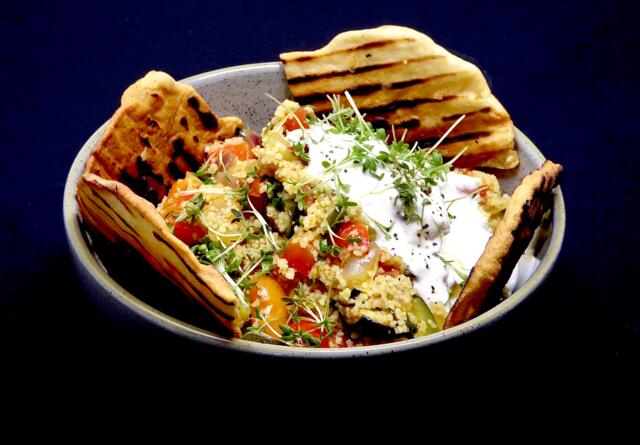 Related recipes
Gastronomical masterpieces
Related products
Say yes to the cress