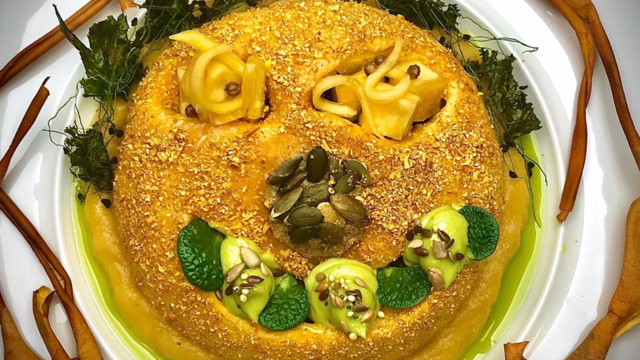 Smokey Halloween Pumpkin with Rock Chives
Source: Franck Pontais
It doesn't always have to be serious!
Ingredients
1 small pumpkin (approx. 1 kg)
100g unsalted butter
100g curly kale
8 punnets Rock Chives®
Mayonnaise Ingredients 
1 egg yolk
1 tsp Dijon mustard
300 ml grapeseed oil
Squeeze of lemon juice 
Pickling Liquor Ingredients
1 cup apple cider vinegar
1.5 cups water
¾ cup granulated sugar
1 tablespoon sea salt
1 teaspoon coriander seeds
1 small stick cinnamon 
1-star anise
1 tsp brown mustard seeds
Method
Start by peeling the pumpkin and dehydrating the reserved skin. Add two cut punnets of Rock Chives® to the dehydrator at the same time.Cut the pumpkin in half across its equator, scoop out the seeds and deshell - (Wash the seeds, lay flat on workbench and roll over with rolling pin to crack exterior shell. Boil for approximately 5 minutes until shells pop off, leaving soft green pumpkin seeds). Toast the seeds and reserve for plating.

Blend together five punnets of rock chives with the 250ml of grapeseed oil, the oil must become warm. Strain through a coffee filter reserving the pulp & oil.Use about 125ml of the oil to make a Rock Chive emulsion using the egg yolk, Dijon mustard, Rock Chive pulp & lemon juice. Reserve the rest of the oil for plating.

Carve pumpkin face in chosen design and brush all over with Rock Chive oil. Wrap in foil and bake at 160C until tender but not collapsing, about 30 minutes. Remove foil and bake for a further 10 – 15 minutes. Put half of the remaining pumpkin into a smoker or cook indirectly on a barbecue and leave until cooked and soft, ready for pureeing. Whilst blending, add cold cubes of butter until desired consistency is achieved together with a squeeze of lemon juice.
Use the remaining pumpkin to cut in to small / medium dice, and some in to julienne. Combine each of the pickling liquor ingredients together and bring to the boil, pour over the pumpkin pieces, cover and leave to pickle & infuse. Cut the kale in to pieces and coat with rock chive oil & season. Bake in the oven at 160C for about 10 minutes until crispy. 

Crumble half of the dehydrated Rock Chives over the kale to add another layer of seasoning. Blitz the dehydrated pumpkin skin and use to coat the outside of the pumpkin face. Use each of the components to create a crazy Halloween plate for your guests.
Recipe: Franck Pontais
Source: Staff Canteen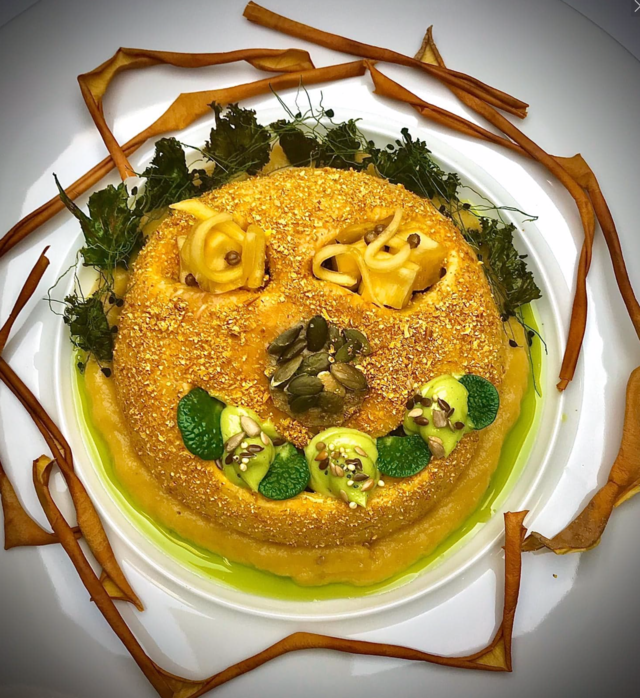 Related recipes
Gastronomical masterpieces
Related products
Say yes to the cress