Ingredients
(For 1 portion)
100g seared sirloin of beef  
60g cooked cauliflower 
60g cooked rice 
40g edamame beans
40g sea lettuce  
30g orange segments 
¼ of a punnet Garden Cress
¼ of a punnet Atsina Cress 
¼ of a punnet Adji Cress   
a pinch white sesame seeds  
Dressing:
70ml sesame oil  
20ml soya sauce
10ml lemon juice
Method
Cut the seared sirloin of beef into slices of ½ cm thick.
Arrange all the cooked ingredients in the poke bowl, add the sliced beef on top.
To make the dressing, put all the ingredients into a bowl and whisk to create an emulsion.
Pour all over the beef and vegetables just before serving or serve the sauce separately.
Finish with the pinch of white sesame seed and serve.
Recipe: Franck Pontais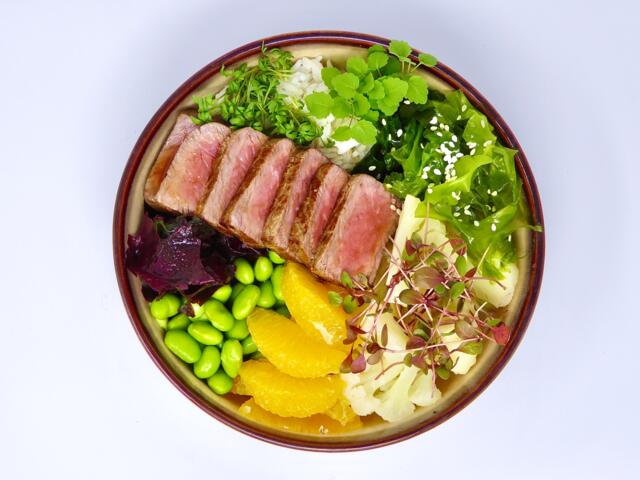 Related recipes
Gastronomical masterpieces
Related products
Say yes to the cress