Ingredients
(For 4 portions) 
2 punnets BroccoCress
2 punnets Tahoon Cress
750gr fresh shitake mushrooms
50gr Panko bread 
1 tbsp dried Aonori seaweed
50gr melted butter 
150ml grapeseed oil
150ml water 
4 pieces of 180gr salmon filet 
Method
Cook all the mushrooms in a oven at 200℃ with a drizzle of grapeseed oil. 
Once cooked, reserve 500gr and blitz the other 250g to make a duxelle. 
Using a mixing bowl, mix the mushroom duxelle with the panko bread, the melted butter, and the Aonori seaweed. 
Place the mix between two sheets of parchment paper and roll with a rolling pin to a thickness of about 3mn. 
Cut 4 squares or rectangles to fit the top of your salmon. 
Cook the salmon (with the crust on) in a preheated oven at 230℃ for 10 to 12 minutes. 
Meanwhile, using a high-speed blender, blitz together 1 punnet of BroccoCress and one punnet of Tahoon Cress with the rest of the grapeseed oil.
Pour this onto the cooked mushrooms and serve with the cooked salmon. 
Finish the plates with the rest of the freshly cut Tahoon Cress and BroccoCress. 
Serve. 
Recipe: Franck Pontais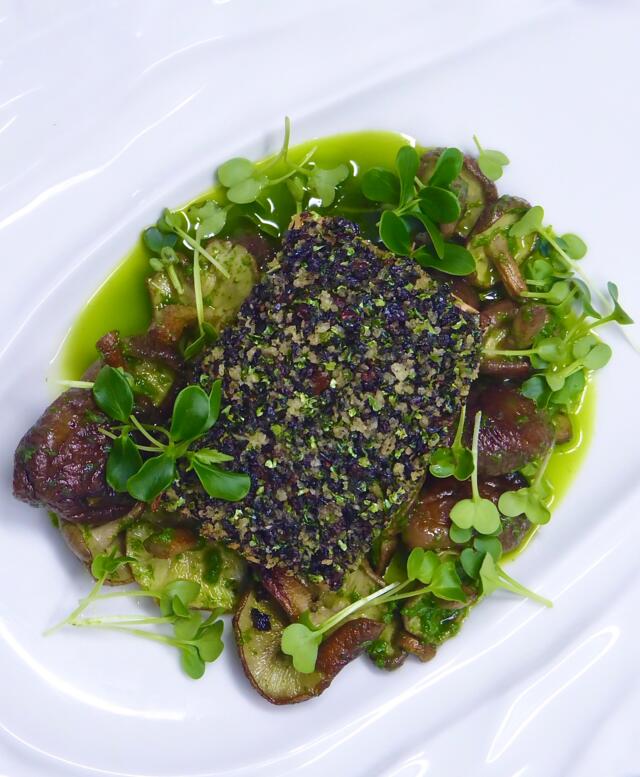 Related recipes
Gastronomical masterpieces
Related products
Say yes to the cress