Ingredients
(For 4 portions)
1 punnet Tahoon Cress
650g Jerusalem artichokes
20g unsalted butter
200ml vegetable stock
1 pinch white ground pepper
rice flour
vegetable oil for frying
Method
Clean and brush the Jerusalem artichokes and cut 550g into wedges. 
Melt the butter in frying pan and add the wedges. 
Wait for wedges to get a nice light brown coloration and add the hot vegetable stock to the pan. 
Add a lid or a piece of tin foil on top of the pan and let it cook for a few minutes. 
Remove the lid, add 2/3 of the freshly cut Tahoon Cress to the artichokes and cook for a another few minutes, until tender. 
For the crisps, peel the remaining 100g of artichokes. 
Dry the peelings between two tissues paper to remove the excess of water and dip each piece into the rice flour. 
Remove the excess of flour and shallow fry each peeling in order to make the crisps. 
Dress the dish by placing the cooked artichokes and their juice in the centre, add a few crisps on top and add some of the leftover Tahoon Cress to the plate.
Recipe: Franck Pontais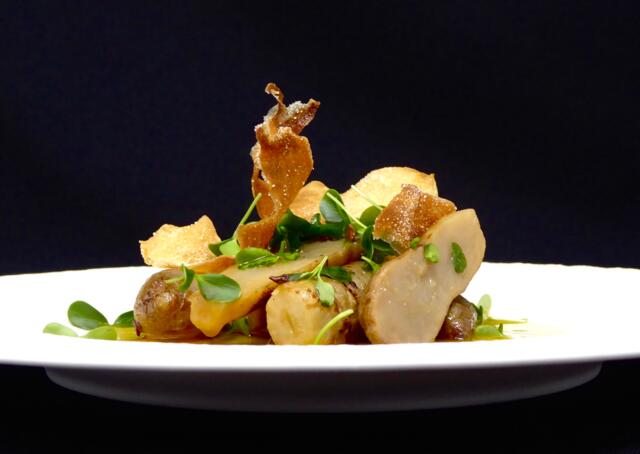 Related recipes
Gastronomical masterpieces
Related products
Say yes to the cress