Ingredients
(Forr 4 portions - 2 pancake per pers.)
The pancakes:
3 punnets Mustard Cress
300gr fine carrot pureed
50ml vegetable
200gr flour
2 large eggs
300ml milk
5 to 6 drops tabasco
1 pinch white ground pepper
The filling:
1 punnet Mustard Cress
300gr cooked spinach
350gr cottage cheese
150gr pureed carrot
2 pinch ground nutmeg
2 pinch white ground pepper
Method
Use 200gr of carrot puree for the mix and 100gr for the sauce.
Keep the vegetable stock for the sauce also.
Pancakes:
Mix the rest of the ingredients together as you would do for a basic pancake mix.
Whisk well and let rest the mix rest for one hour.
Cut 2 punnets of Mustard Cress.
Using a small ladle, pour the mix into an oily and hot frying pan, sprinkle some freshly cut Mustard Cress on top and return the pancake to cook on the other side.
Repeat the operation until you finished the mix and made at least 8 pancakes.
Lay the pancakes on the table and place a spoon of spinach and cottage cheese filling on top of each one. 
Wisk together the 100gr of carrot puree with the vegetable stock and pour the sauce at the bottom of an oven dish.
Fold each pancake into triangle parcels and place them into the oven dish.
Cook cover in an oven at 180℃ for 15 minutes.
Serve hot with the some freshly cut Mustard Cress from the remaining punnet.
The filling:
Cut the Mustard Cress in a bowl and add all the other ingredients.
Fold nicely with wooden spoon and divide the mix among the pancakes.
Recipe: Franck Pontais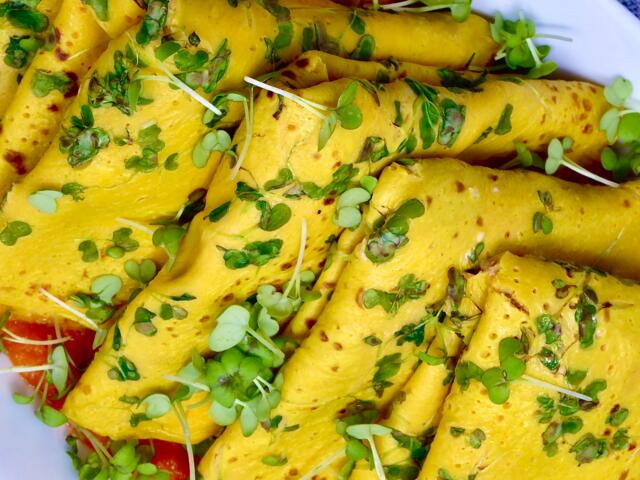 Related recipes
Gastronomical masterpieces
Related products
Say yes to the cress