Ingredients
(For 4 portions)
12 thick asparagus
1 soft boiled potatoes (peeled)
cup of Mustard Cress
sea salt Verstegen
mace powder Verstegen
160 gr Imperial Heritage Caviar
60 g butter
black pepper from the Verstegen mill
water
Method
Potato straw:
Cut the potato into fine threads. Wash under running water and dry.
Fry at 140°C until crispy and have a beautiful golden yellow color. Place on kitchen paper and sprinkle a little bit of sea salt on it.
Asparagus spaghetti:
Peel 8 asparagus. Cut it into thin slices (2 mm) using a plane. Now cut long strings (spaghetti).
Stew the strings briefly with a dash of water and 20 g butter. Season with sea salt and black pepper.
Make sure they are crispy.
Asparagus sauce:
Also peel the 4 remaining asparagus. Cut into pieces and cook with a little water. Season with sea salt,
some mace and some black pepper. Mix this with the gravy and the remaining butter to a thickened white sauce.
To finish off:
Spoon some sauce into each bowl.
Using a fork, roll some asparagus spaghetti into a pile and place on each plate.
Finish with some crispy straw, a spoonful of caviar and some Mustard Cress.
Recipe: Frank Fol - The Vegetables Chef®
Photo: Wim Demessemaekers, Photographer | @wim_dmskrs
Preparation time: 25 minutes
Techniques: veggies
Plate: Wild Sage Bowl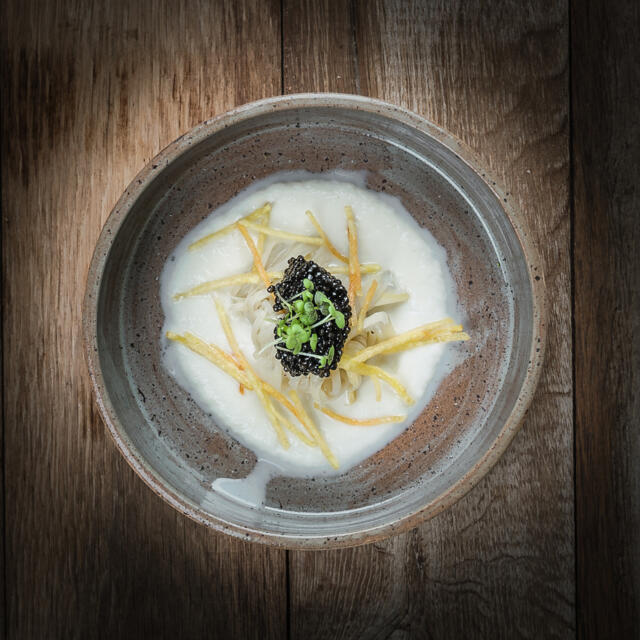 Related recipes
Gastronomical masterpieces
Related products
Say yes to the cress