Ingredients
(For 4 portions)
1 punnet Scarlet Cress
4 clementines
2 thick slices of panettone
1 tbsp vanilla essence
750ml water
350g sugar
icing sugar for dusting
Method
Wash the clementines to remove the external wax and make some cuts on top of each one ¾ deep in order to see 8 perfect wedges from the top of each fruit. 
Whisk the sugar in the water with the vanilla essence. 
Place the clementines at the bottom of the slow cooker and cover with the liquid. 
Place the lid on top of the cooker and cook on slow mode for 6 hours. 
Once soft and confit, leave the fruits to cool down by themselves in the syrup and leave overnight. 
Cut each slice of panettone into two and cut out a circle in each piece with a round cutter. 
Place the round circle of panettone at the bottom of each plate, pour the cooking juice around it and place the clementine on top. 
Add the Scarlet Cress, dust with the icing sugar and serve. 
PS: As an alternative to the slow cooker, you can cook "sous vide" through immersion. 
Recipe: Franck Pontais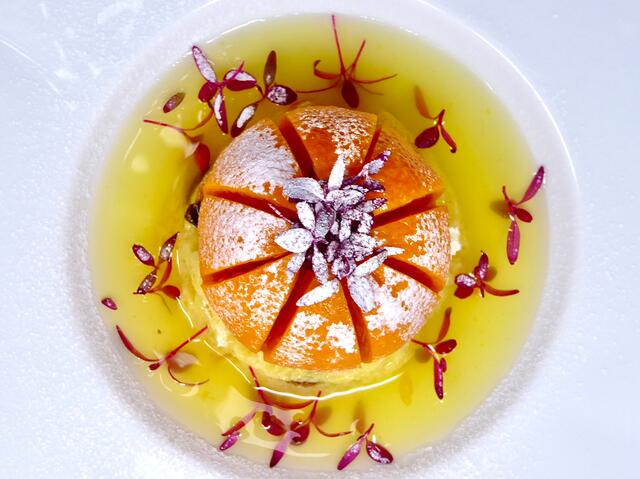 Related recipes
Gastronomical masterpieces
Related products
Say yes to the cress