Ingredients
(For 4 portions)
50g tempura powder
400ml BroccoCress juice
125g red quinoa
4 carrots
4 Broccoli sprouts
4 asparagus 
1tbsp olive oil
1 punnet Chilli Cress
1 punnet BroccoCress
Salt if preferred
Method
Parts blanch the vegetables in salty water, refresh in icy water and reserve until use.
Cook the red quinoa in 300ml of BroccoCress juice; keep the remaining 100ml for the tempura batter.
Make the tempura batter using the tempura powder and the remaining 100ml of BroccoCress juice.
Deep each piece of vegetable into the tempura batter and shallow fry for a few seconds.
Mix the cooked quinoa with the olive oil and Chilli Cress, season to taste and place one spoon full at the centre of each plate. Add the vegetables around it and serve.
To make the Broccocress "juice":
Put the equivalent of two punnets of BroccoCress into a high speed blender, add some icy water to the level of the cress and blitz for 1 minute.
Pass through a fine sieve or coffee filter. Keep the juice in the fridge until use.
Recipe: Franck Pontais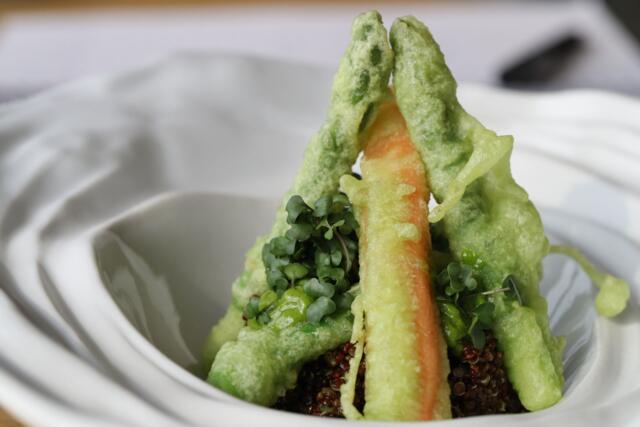 Related recipes
Gastronomical masterpieces
Related products
Say yes to the cress