Ingredients
For 4 people:
4 not overly ripe kiwi
1 pack of Hippo Tops
Toasted bread crostini
2 carrots
2 red onions
2 celery stalks
1 celeriac
10 mushrooms
1 glass of red wine
Salt
Sugar
Extra virgin olive oil
Soy sauce
Method
Arrange the kiwi on a baking tray and bake them at 160 degrees Celsius (320 degrees Fahrenheit) for 20-25 minutes.
Allow them to cool and peel them using a knife.
Dice all the remaining vegetables and place them on a baking tray.
Season with a little oil and roast them at 200 degrees Celsius (392 degrees Fahrenheit) for 30 minutes, stirring every 10 minutes.
Once well roasted, transfer the vegetables to a large pot, cover them with cold water, and cook over low heat for about 1 hour.
Then, strain the obtained broth.
In a saucepan, reduce the red wine to a syrup, add the vegetable broth, and reduce slightly.
Season with salt, sugar, and soy sauce.
Submerge the kiwi in the vegetable base and cook until the sauce thickens, similar to a classic braised dish.
Plate the braised kiwi while hot, with the sauce, some crumbs of toasted bread, and plenty of Hippo Tops leaves on top.
Recipe: Pier Giorgio Parini
Source: Italia Squisita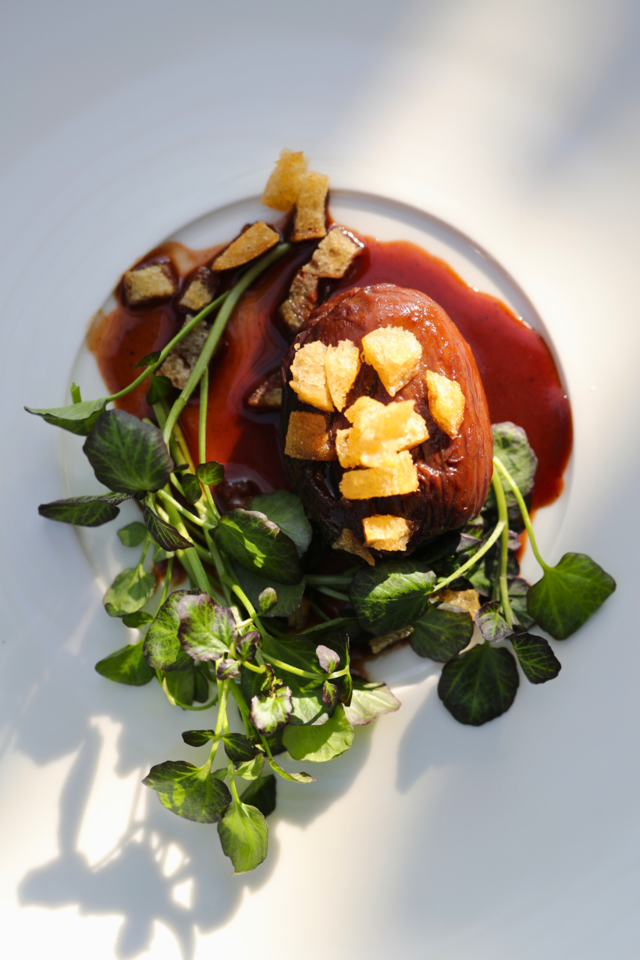 Related recipes
Gastronomical masterpieces
Related products
Say yes to the cress