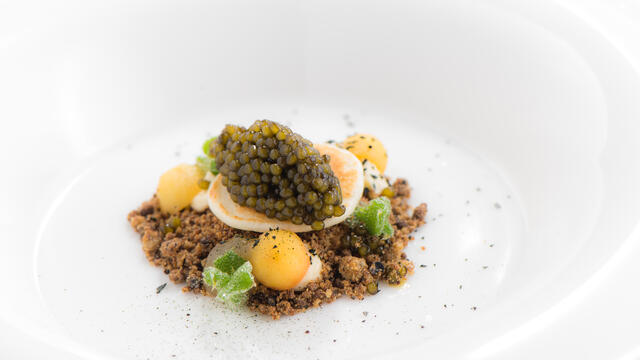 Buckwheat blini with caviar, apple and BlinQ Blossom
Marcel Fischer is a versatile chef, lost to his Thuringia and her rich eating traditions. The cresses are an obvious extension of this for him.
Ingredients
100% algae
BlinQ Blossom®
spice crumble
caviar
For the blini:
400 g flour type 405
2 g fresh yeast
400 g buckwheat flour
500 g of water
750 g of milk
175 g of butter
5 eggs
salt
sugar
For the braised apple:
1 granny smith apple
4 Dushi® Buttons
1 cl white wine vinegar
aniseed
For the sour apple cream:
2 granny smith apples
1 dl apple juice
2 Dushi Buttons
2 g xantana
200 g of sour cream
For the algae gel:
Samphire
1 cucumber
3 g agar
15 g 100% algae
Haco weiss
Method
Dissolve the yeast in warm water, add the flour and let rise for 90 minutes. Then add the buckwheat and warm milk and let rise again for 90 minutes.
Add the egg yolks, sugar and warm butter and let rest for 60 minutes. Beat the egg whites lightly with some salt and stir with a spatula under the mass.
Fry the blinis in the pan over medium heat. Peel the apple and cut out pearls, mix it with the other ingredients and cook in the oven at 140°C for 8 minutes.
For the sour cream, peel the apples, cut into pieces, blender with the other ingredients except the sour cream, warm on speed 4 for 20 minutes, then blender for another 2 minutes and mix with the sour cream.
For the gel, centrifuge the cress and cucumber, pass through a sieve, bring to a boil with the Haco weiss and the agar, add the algae powder and set cold.
Blender smooth. Dress the sour cream on the plate and cover with the crumble.
Place a blini with caviar on top, add the apples with the gel and garnish with the BlinQ Blossom®.
***
Spa & Golf Resort Weimarerland
Weimarer Str. 60, Blankenhain
Tel. 0049 36459 61640
www.golfresort-weimarerland.de
Recipe: Marcel Fischer
Source: Culinaire Saisonnier 88 - Spring 2018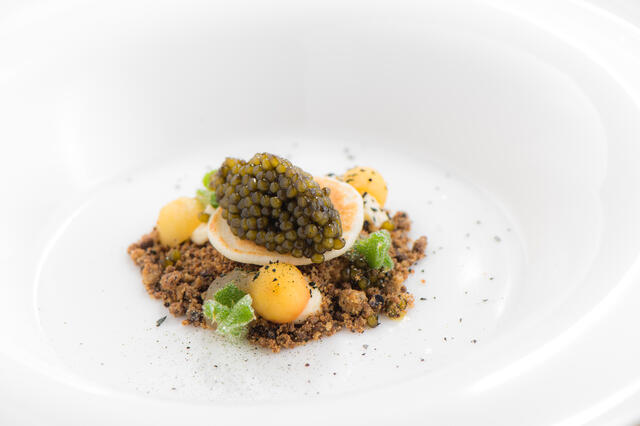 Related recipes
Gastronomical masterpieces
Related products
Say yes to the cress