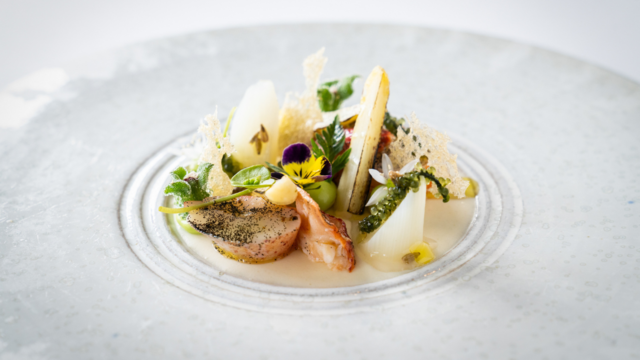 Asparagus, Lobster, Vanilla and Moai Caviar
Ingredients
For 8 people:
1 l asparagus velouté
18 g gelatin
1 lobster of 500 g
1 pod Planifolia Black Vanilla
 8 asparagus AA cooked
Moai Caviar
Purslane
Lavender Vinegar
Cornabria Blossom
BlinQ Blossom
For the asparagus skinouté:
1 l cooking liquid from asparagus
5 dl cream
100 g crème fraîche
50 g butter
Salt
Pepper
Method
For the asparagus velouté, boil the asparagus cooking liquid down to half, add the cream, crème fraîche and butter and evaporate some more.
Season the velouté with salt and pepper.
Add the soaked gelatin and pour the mixture onto a mirrored plate and let it harden in the refrigerator.
Cook and clean the lobster.
Place the portioned lobster on a plate and drizzle with lime oil to which the vanilla marrow has been added.
Let the lobster become lukewarm under the heat bridge.
Allow the cold velouté to come to room temperature and dress the lobster, Moai Caviar, Cornabria Blossom, BlinQ Blossom, roasted asparagus pieces and purslane on top of the asparagus velouté.
Finish with lavender vinegar and olive oil.
Recipe: Lars van Galen - 't Lansink 
Source: Culinaire Saisonnier / Summer 2023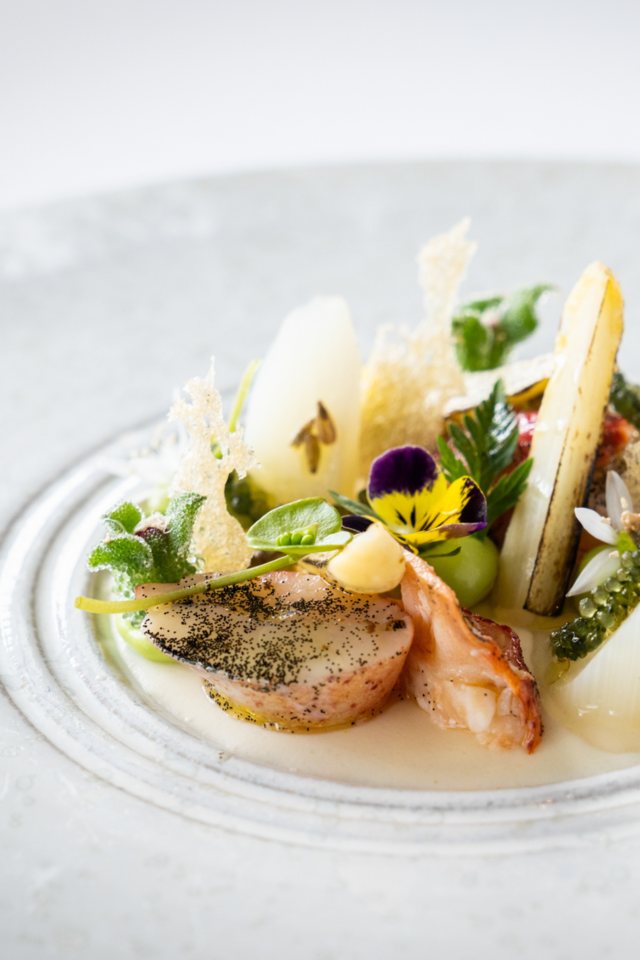 Related recipes
Gastronomical masterpieces
Related products
Say yes to the cress