Ingredients
(For 1 portion)
Bowl:
120g cooked chicken cut into large strips 
50g cooked mushroom
50g cooked red cabbage 
50g cooked sliced courgettes 
50g sweet corn     
2 leaves lettuce  
25g spicy mayonnaise 
¼ of a punnet BroccoCress  
¼ of a punnet Sakura Cress
1/6 of a punnet Rock chives  
a few slices purple spring onions 
Bang Bang batter: 
1 tbsp flour   
1 tbsp corn starch
¼ of a tsp garlic powder  
¼ of a tsp paprika   
2 pinches table salt  
1 pinch white ground pepper 
1 tsp chilli sauce
1 tbsp soya milk  
60g panko breadcrumbs 
Oil for frying
Mayonnaise (120ml): 
100ml plain mayonnaise  
1 tbsp chilli sauce  
1 tbsp honey
1 tbsp chipolata sauce  
Method
Bowl:
Arrange all the ingredients in the poke bowl with the hot bang bang chicken.
Drizzle the spicy mayonnaise on top of the chicken and serve.
Bang Bang batter: 
Pour the panko bread into a flat plate.
In a bowl, mix all the other ingredients together to form the batter.
Immerse the cooked chicken strip into the batter then remove them one by one and roll into the panko breadcrumbs. Fry in oil until golden brown.
Mayonnaise (120ml): 
Whisk all the ingredients together.
Pour into a squeeze bottle, ready to use on the chicken.    
Recipe: Franck Pontais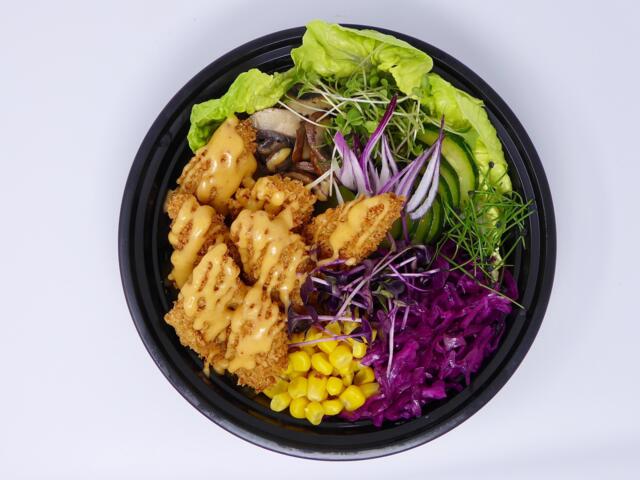 Related recipes
Gastronomical masterpieces
Related products
Say yes to the cress