Ingredients
Hawthorn juice:
100 gr fresh red hawthorne berries (if unavailable, please substitute with fresh baby plums)
60 gr honey
50 gr water
1 tbsp lemon juice
Beetroot compote:
3 raw whole baby beetroots
500ml water
2 star anise
1 cinnamon
Coco-Cashew base:
2 tbsp dessicated coconut
3 tbsp plain cashew nut
1 tbsp coconut sugar
Coconut foam:
2 x 400 gr tin full fat coconut milk (to yield 400 gr of water and 200 gr of coconut cream)
80 gr caster sugar
5 gr vegetable setting powder
2 gr xantham gum
Beetroot wafer:
80 gr water
30 gr rapeseed oil
10 gr beetroot powder
To serve with:
4 Dushi Buttons
1 tsp organic beetroot powder
Method
Hawthorn juice:

Clear the hawthorn berries of leaves and stalk and give it a good wash. Simmer them in water for around 30 minutes on medium flame until they are totally soft. Use a potato masher to mash them up gently to release the pulp. Strain the mix through a muslin cloth or a fine strainer to extract all the juice and discard the pulp. Add the honey and lemon juice to the hawthorn juice now and keep aside.
Beetroot compote:

Wash and boil the whole baby beetroot in water until they are three quarters cooked. Cool them down slightly and peel the skin off while it's still lukewarm. Dice them into small 5mm x 5mm cubes and place it in a medium size pan. Add the reserved hawthorn juice, cinnamon, and star anise to it. Simmer on a medium flame till the beetroot are completely cooked and some of the juice is reduced. Remove and cool it for 4-6 hours or preferably overnight for a complete infusion to take place.
Coco-cashew base:

Place a medium size non stick pan on a slow flame. When slightly warm add the cashew nut and gently roast till light golden brown making sure it is tossed regularly to colour all sides if possible. Remove on a flat tray to cool down. Add the desiccated coconut to the same pan and carry on roasting and tossing on a slow flame to ensure even toasting and light golden-brown colour. Remove and place on a flat tray to cool down. Mix the coconut, cashew nut and coconut sugar once cool down and blitz it very briefly in a food processer. It should resemble the consistency as a crushed biscuit base.
Coconut foam:

For this recipe we will need the water and cream from the coconut milk tin to be separate once the tin is opened, as it will be added separately during the making of foam. Add 400 gms of coconut tin water, 200 gms of coconut cream from the tin and sugar to a medium sized thick bottomed pan and place it over a medium heat. Using whisk bring the mix to a gentle simmer and check the temperature using probe. Once it reaches 80°C remove from the stove top. Whisk in the vegetable setting powder and Xantham gum in the mix making sure its completely dissolved and no lumps remain. Pour the hot mix in a bowl and place it over ice to cool down quickly. Once cool and below 5°C pour the coconut foam mix in a cream whipper / siphon and place 1 nitrogen (N2O ) in. Keep the whipper in refrigerator till assembly. Alternatively, you can also use an electric whisk to foam the mix.
Beetroot wafer:

Mix the beetroot powder and flour together and sieve through a flour sieve to remove any lumps. Add the water and whisk into a very runny wafer mix. Heat a small non-stick frying pan over medium heat. Pour one tablespoon batter in the hot pan and let it slowly dry out until it stops bubbling. This is sign that the wafer is ready. Remove the pan from heat and using a pallet knife gently remove the wafer onto a parchment paper to cool down. Repeat the process to make a few more wafers. It gets crispier as it cools down.
Assembly:

Start by place a 5cm ring mould in the centre of the plate. Add one tablespoon of the coco-cashew base in the ring. Press it down the ring gently using the spoon. Next add a tablespoon and half of beetroot compote on the base. Keep the ring in place and do not remove yet. Next pipe the coconut foam pointing the nozzle downwards to form a thick foamy ring immediately outside the ring making sure it doesn't enter the inside the ring. Add a few beetroot wafers on the foam and sprinkle the beetroot powder using a sugar shaker on the coconut foam. Once done, carefully remove the ring to ensure the beetroot stays in the middle. Place 4 Dushi Buttons on top to finish the garnish and serve immediately.
Recipe: Jai Shaikh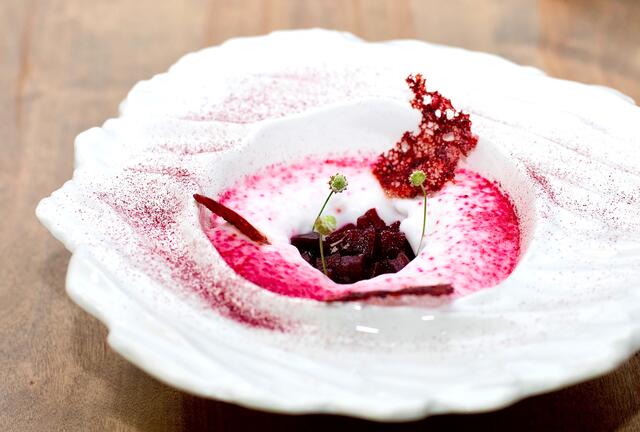 Related recipes
Gastronomical masterpieces
Related products
Say yes to the cress