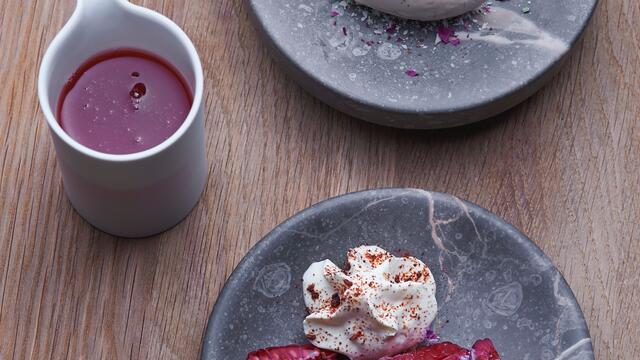 Baba, rose leaf ice cream, rice milk and Zallotti Blossom
Chef Sébastien from restaurant Ogst: "Small flavor bombs have to add surprising elements to my apparently austere desserts, in which the complexity is not always visible."
Ingredients
raspberry powder
Zallotti Blossom
raspberry
For the baba batter:
6 g yeast
130 g of flour
1 g of salt
6 g of honey
45 g of butter
3 eggs
1 dl grape seed oil
For the rice milk:
1 l of milk
1 vanilla pod
200 g of rice
10 g Zallotti Blossom
For the rose leaf ice cream:
1 l cream
1 l of milk
400 g egg yolk
350 g of sugar
100 g stabilizer
1 vanilla pod
250 g of rose petals
For the raspberry and rum gravy:
500 g of raspberries
2 tbsp rum
Method
For the baba batter, melt the butter and mix with the other ingredients. Let the batter rest for 30 minutes, butter the molds and fill each mold with 40 g batter. Let rise and bake in the oven at 180°C for 15 minutes.
Boil the milk with the rice and vanilla, let it rest overnight, strain, fill a siphon and aerate with two cartridges. Make an anglaise for the ice and infuse overnight with the rose petals.
Pass the mass and turbine. Vacuum the raspberries and rum for the gravy and let it steep for 1 hour in a water bath at 60˚C. Drench the baba with the gravy and serve with the other components and the Zallotti Blossom.
***
Restaurant Ogst
Ridder Portmansstraat 4 - Hasselt
T 0032 11 41 38 13
www.ogst.be
Recipe: Sébastien Wygaerts
Source: Pâtisserie & Desserts - 50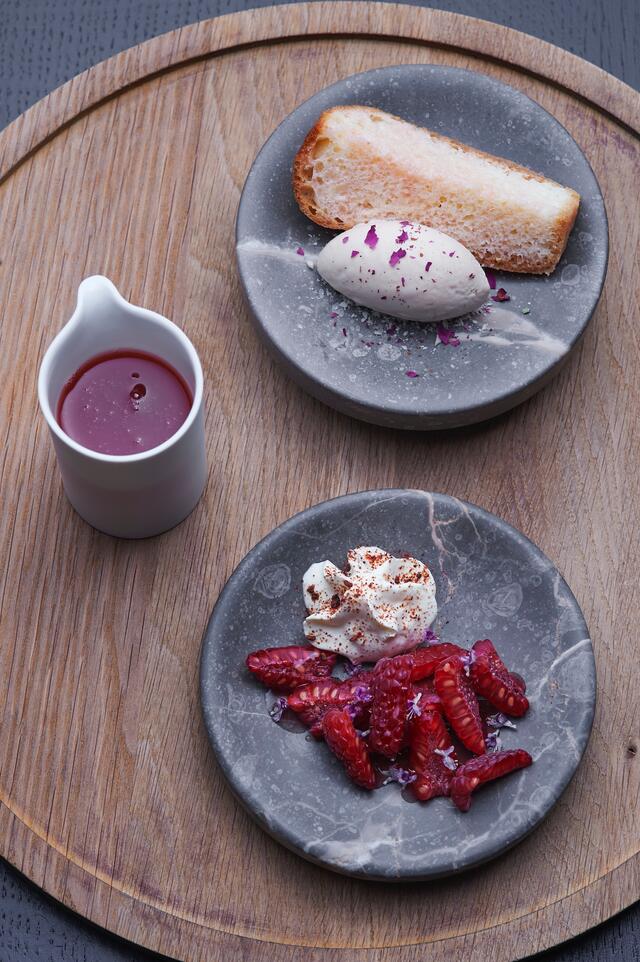 Related recipes
Gastronomical masterpieces
Related products
Say yes to the cress