Ingredients
(For 5 portions)
10g Zalotti Blossom 
5g Anise Blossom
5g Paztizz Tops
Lobster: 
Baked Pumpkin: 
500g Hokkaido pumpkin 
Browned butter with coffee
50g butter
25g strong coffee
liquid honey 
Method
Lobster:  
Blanch the lobster tails in boiling water for 30 seconds. 
Put the lobster tails in cold water.  
De-shell the lobster tails.  
Keep the lobster tails refrigerated until serving. 
Baked pumpkin: 
Put whole pumpkins on a baking sheet and put them in the oven at 180°C and bake them for 30-40 minutes.  
Put the baked pumpkins in the fridge and cool them completely. 
Peel the baked pumpkin and cut the pumpkin into portion sizes. 
Browned butter with coffee:
Put the butter in a saucepan and put it on the burner, let the butter simmer.  
Sift the butter into a new pan and add the coffee to the butter.  
Taste the browned butter with coffee and a little honey.  
Keep the butter warm until serving. 
When serving:  
Melt a little butter in a pan and warm lobster tails and pumpkins on it, lobster and pumpkin should not be browned by just heating up in the butter.  
Serve pumpkin and lobster on a plate, spread the herbs over the lobster tail and pour a little of the browned butter with coffee on the pumpkin piece. 
Recipe: Søren Kyed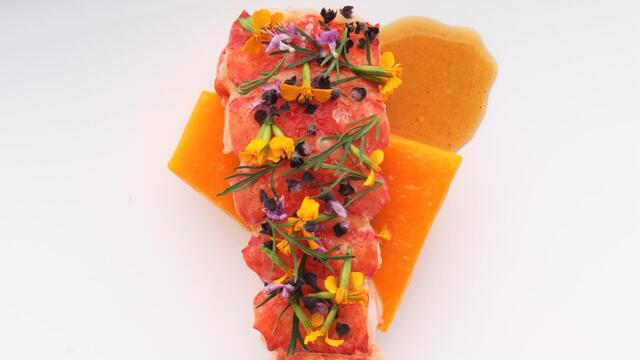 Related recipes
Gastronomical masterpieces
Related products
Say yes to the cress