Ingredients
½ watermelon
½  dl Shiso Purple vinegar
¼  cup beetroot juice
½ dl soy sauce
¼ dl sugar water
¼ dl grape seed oil
1 cup blackberries
1 cup blueberries
1 cup of raspberries
1 cup Melissa Cress
1 cup of Bean Blossom
1 cup Shiso Purple Leaves
Method
Peel the watermelon and cut it into pieces.
Make a marinade of ¼ Shiso Purple vinegar, the beet juice and the soy sauce, mix it well with the watermelon and put it in the refrigerator for at least 6 hours under pressure or infuse it once in a vacuum machine.
Marinate the fruit in the sugar water mixed with the remaining Shiso Purple vinegar.
Grill the watermelon on the BBQ at 210°C until tender for about 10 minutes with the lid on.
Dress the watermelon with Shiso Purple Leaves, the red fruit, the Melissa Cress and the Bean Blossom.
Recipe: Leonard Elenbaas (BBQ Pitmaster Community) en Eric Miete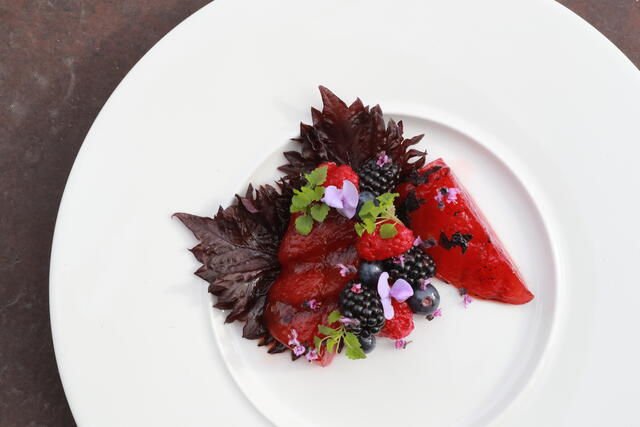 Related recipes
Gastronomical masterpieces
Related products
Say yes to the cress