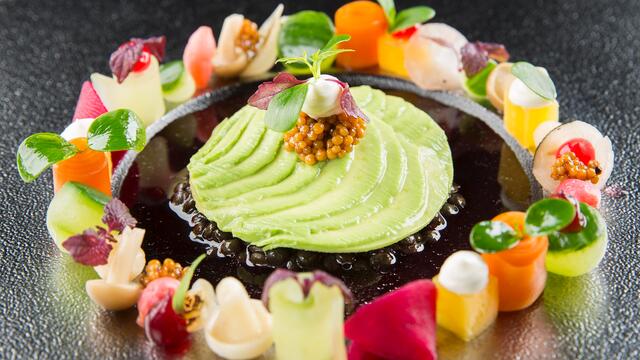 Pickled vegetables, beluga lentils and avocado
Working with a local farmer's wife who owns a vegetable garden planted at his request brings Alexander Wulf closer to his ultimate goal: a modern global kitchen with Russian touches.
Ingredients
1 ripe avocado
mustard seed
Shiso Purple
Tahoon® Cress
For the lentils:
200 g beluga lentils
50 g parsley
400 g vegetable stock
5 cl Aceto balsamic
5 cl sunflower oil
salt
pepper
For the smetana:
250 g smetana
salt
pepper
juice of 1/2 lemon
1 tsp sugar syrup
1 tsp textura
grate 1 lemon
For the pickled vegetables:
3 stems of lemongrass
1 ginger root
2 onions
1/2 celeriac
3 garlic cloves
1 chilli
80 g coriander grains
70 g of mustard seed
1 l apple juice
1 l white balsamic vinegar
75 cl of white wine
1 kg of sugar
5 bay leaves
3 cloves
4 juniper berries
1 cardamom pod
1 tbsp fennel seeds
1 cinnamon stick
1 vanilla pod
1 tbsp chopped rosemary
For the vegetables:
beetroot
carrot
yellow beet
radish
cucumber
shimeji mushroom
kohlrabi
black rettich
roasted mini onions
For the rettich juice:
1 dl sweet and sour juice
50 g grater of black rettich
50 g grated radish
1 cl beetroot juice
30 g (red) Shiso Leaves Purple
For the sweet and sour gel:
5 dl sweet and sour liquid
4 g agar
Method
Cook the lentils in the vegetable pan until al dente, drain, season with the other ingredients and let cool.
Season the smetana with the other ingredients and tie with some textura.
Bring all the ingredients for the pickled vegetables to a boil and pass through a sieve.
Cut all vegetables to the right size or shape, blanch them all separately and top with the sweet and sour liquid.
For the rettich juice, vacuum the moisture with the radishes, Shiso Leaves Purple and the beet juice, cook for 40 minutes at 80°C and pass through a sieve.
For the gel, bring the moisture to the boil with the agar, let gel and blender smooth. Dress the vegetables on the edge of the plate and the lentils in the middle.
Thinly slice the avocado and place on the lentils. Spoon in the juice and finish with the gel and cress.
***
Restaurant St. Jacques

Feldstrasse 50, Heinsburg, Duitsland
Tel 0049/2453 306 980
www.burgstuben-residenz.de
Recipe: Alexander Wulf 
Source: Culinaire Saisonnier 91 - Winter 2018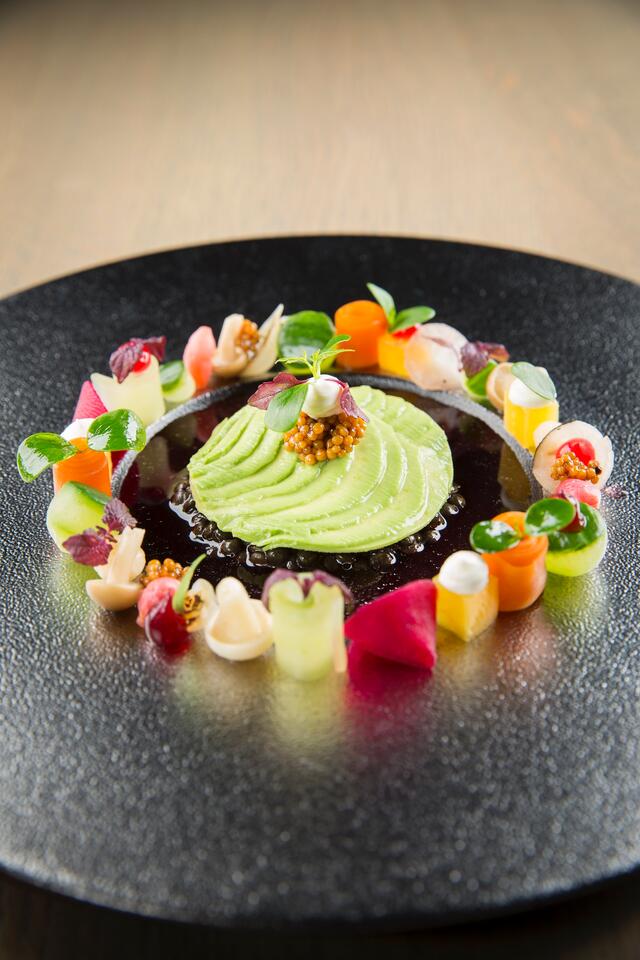 Related recipes
Gastronomical masterpieces
Related products
Say yes to the cress