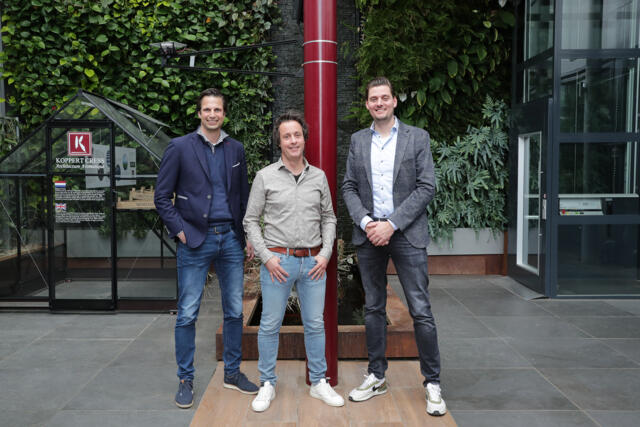 Koppert Cress ready for the future with new managing board
Category: Why of Horticulture
The managing board of Koppert Cress will now consist of Stijn Baan, Ronald Vreugdenhil, and Robin Schaap.
With the appointment of a commercial and operational director, the entrepreneurial family business is preparing for further growth. Stijn Baan, as a second-generation Baan, has been involved with the company for a long time. In recent years, he has been responsible for marketing within the management team. Ronald Vreugdenhil has also been working at Koppert Cress for many years as a production manager. Robin Schaap will remain involved in the Board of Directors and as ad interim in the Koppert Cress BV managing board.
"With a growing business comes a growing organization. Stijn, Ronald, and Robin are 'homegrown' and know the soul of the organization. With this step, I have full confidence in the future and that the organizational culture will be preserved", said Rob Baan.
Rob Baan will remain active from the Koppert Cress Group. The Koppert Cress Group is an umbrella organization within which three different companies are represented: Koppert Cress, seed company Sango Seeds, and newly founded sustainable subsidiary Division Q are part of this structure. "The future is in a hurry, and innovation in horticulture is crucial", said Rob Baan. He will continue to focus on innovations related to sustainability, new products and "Health and Happiness" within the sector.
In the new situation, the Board of Directors of the Koppert Cress Group remain unchanged. Entrepreneurs Rob Baan and Theo Cuppen will continue to form the board together with Robin Schaap.
Who is Rob Baan?
Rob Baan has been the CEO since 2002. A passionate and sometimes stubborn man; qualities necessary to pursue his dream of making The Netherlands the healthiest delta in the world. Rob Baan is concerned about more than just edible plants. Horticulture offers solutions to numerous problems that we face as a society, such as making the world population healthier and transitioning to sustainable energy. To represent the interests of the entire horticultural sector, Rob often takes to the barricades.
What is Koppert Cress?
Since its acquisition by Rob Baan, Theo Cuppen, and Altai Lin in 2002, Koppert Cress has taken an enormous leap. It has grown from 20 to 225 employees, and the turnover has increased exponentially over the years. Moreover, the company, and particularly Baan himself, is active in all areas related to food and health, both on a business and societal level. It's time to approach these aspects even more professionally. Koppert Cress is constantly looking for natural, innovative ingredients that chefs can use to enrich the taste, aroma, and presentation of their dishes.
What is Sango Seeds?
Sango Seeds produces and sells seeds to growers worldwide. The market for cress is still expanding, and it is beneficial for the entire chain to have access to high-quality, food-safe seeds. Koppert Cress uses a large number of seeds, mainly for cress production. It is always a challenge to have year-round access to the right amount and best quality of seeds. To ensure this supply, Sango Seeds was founded.
What is Division Q?
Making a difference through sustainability. In this dynamic time, the existence of greenhouse horticulture is under pressure. Sustainability is a necessity. Koppert Cress plays a leading role in horticulture in this field. However, the company wants to take the next step in the coming years and start fully growing without emissions. Therefore, the company is fully committed to innovation by collaborating with promising startups and wants to inspire the rest of the sector to follow this example.
Related articles
Also interesting