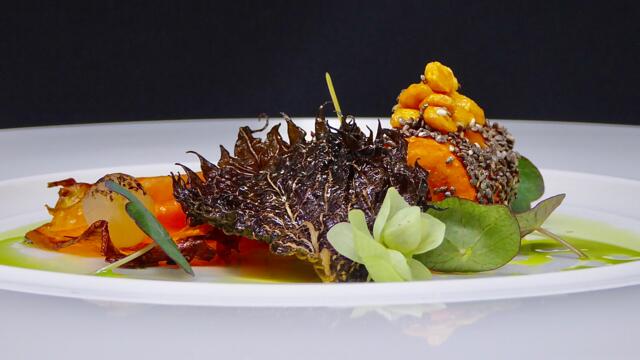 Carrots, chana dal and Zorri oil
Chana Dal: fried split chick peas (savoury indian snack)
Ingredients
20 stem Zorri Cress                                       
4 each Floregano                                           
4 leaves Shiso Leaves Purple                                    
4tsp Zorri oil                                                    
20gr melted ghee                                          
500ml vegetable stock                
4 medium carrots                                                          
12 each small silverskin onions                
40gr chana dal                                 
20gr chia seeds                              
salt and white ground pepper
vegetable oil for frying
Method
Using a Japanese mandoline, make some fine long strips out of the carrot and keep the middle, (the cylinder left over from the machine) to poach in the vegetable stock.
Cook the carrot strip flat , in a hot oven, with a drizzle of Zorri oil and the seasoning.
Fry the Shiso Leaves Purple in vegetable oil and burn the small onions with a torch.
Brush the poached carrot with the ghee and roll them in the Chia seeds.
Add the Chana Dal on top of each carrot, cylinder.
Dress the plate with the carrot strip, carrot cylinder, freshly cut Zorri Cress, the fried Shiso leaves, Floregano, the silverskin onions and a drizzle of Zorri oil.
To make 150ml of Zorri oil:
Emulsion one punnet of Zorri Cress with 150ml of Grapeseed oil in a high speed blender.
Pass through a coffee filter overnight, collect the oil and reserve the pulp to add flavor other dishes such as gnocchi, mash potatoes , consommé, soupe…etc.  
Recipe: Franck Pontais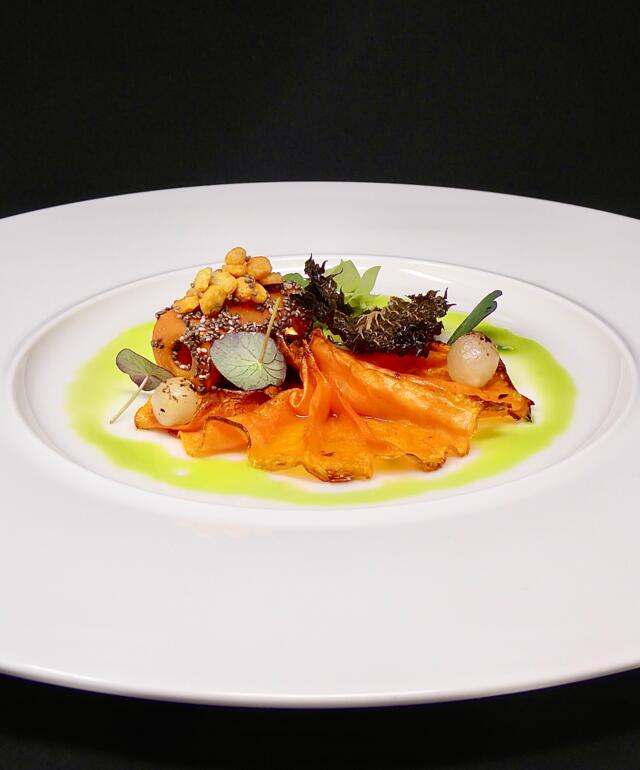 Related recipes
Gastronomical masterpieces
Related products
Say yes to the cress