Veluwe duck, radicchio, quince, Yka Leaves
Alex Haupt: "We absolutely love mackerel, it's nutritious, delicious and delicate."
Ingredients
Veluwe ducks
elderflower oil
Yka Leaves®
burnt hay oil
For the glaze:
100 g elderflower honey
100 g elderflower vinegar
For the sauce:
1 kg duck neck
2 kg duck gravy
500 g shallots
250 g of garlic
70 g thyme
3 bay leaves
2 pcs star anise
10 g of black pepper
10 g coriander seeds
5 g of mace
500 g of red wine
250 g ruby port
15 g of tomato paste
For the radicchio:
1 radicchio
100 g elderflower vinegar
50 g of olive oil
For the quince puree:
10 pcs quince
1 l sugar syrup
1 cinnamon stick
1 pc star anise
10 g of black pepper
50 g of red wine vinegar
Method
Prepare the ducks, vacuum with the oil and cook in a 58°C water bath for 1 hour.
Then fry them crispy on the fat side and let them rest for 15 minutes before serving. Mix the honey and vinegar for the frosting and reserve.
Roast the duck necks for the sauce and put the dry substances in a pan, add the tomato paste and add with red wine and the port.
Reduce by half and add the duck gravy. Let it steep for 4 hours, pass through a fine sieve and reduce to sauce thickness.
Roast the spices, mortar and soak in the sauce for 10 minutes. Pass the gravy through a muslin cloth.
Cut the radicchio into 6 equally sized pieces, vacuum with the vinegar and oil and marinate for 12 hours before grilling. Prepare the quinces and keep the seeds and skins.
Cut the quince into equally sized pieces. Wrap the skins and seeds with the spices in a cloth and mix the quince with the sugar syrup.
Bring this to the boil with the seeds and peel in cloth and let it simmer gently. Blend the quince meat, pass through a sieve and add 50 g of red wine vinegar.
Cut the duck into slices and coat with the glaze. Sprinkle toasted coriander seed on top. Brush the grilled radicchio with quince puree and garnish with Yka Leaves®.
Finish the dish with the gravy and roasted hay oil.
***

Restaurant 101 Gowrie

Govert Flinckstraat 326HS
1073 CJ Amsterdam
www.101gowrie.com
Recipe: Alex Haupt
Source: Culinaire Saisonnier 94 - Fall 2019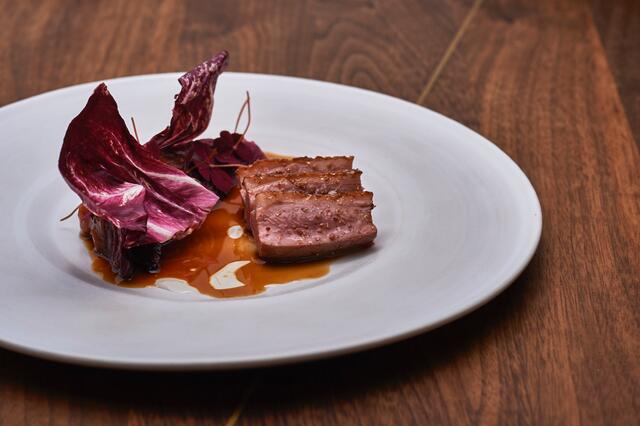 Related recipes
Gastronomical masterpieces
Related products
Say yes to the cress