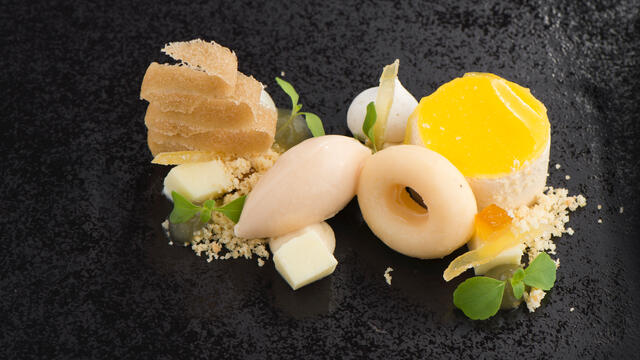 Tea Time Rooibos with lemon and ginger
Marcel Fischer's desserts at the Masters restaurant seem apparently simple in terms of recipes, but the desserts are given a special signature by the intellectual use of the cresses.
Ingredients
crispy tuile
Honny® Cress
ground crumble
For the tea cream:
1 l whole milk
200 g egg yolk
300 g of sugar
1.2 lobes of cream
15 leaves of gelatin
30 g Rooibos du Hammam Tea
For the milk jelly:
2 dl whole milk
1 dl cream
200 g white couverture
2 leaves of gelatin
3 g agar
For the milk ice cream:
120 g of cream
1.2 l whole milk
20 g Rooibos du Hammam Tea
1 vanilla pod
60 g of powdered milk
100 g of sugar
4 leaves of gelatin
For the ginger pudding:
1 l cream
25 g freshly grated ginger
300 g of sugar
6 eggs
30 g cornstarch
1 cup of Limon Cress
For the Atsina gel:
1 l freshly squeezed lemon juice
10 cups of Atsina® Cress
400 g of sugar
12 g of agar
30 g citras
Method
For the cream, bring the milk and tea to the boil and let it steep for 4 minutes. Beat the sugar and the egg yolk until fluffy, dissolve the soaked gelatin in the milk and combine both masses while stirring.
Add the cream and reserve chilled. For the jelly, bring the milk, cream and agar to a boil, melt the chocolate and dissolve the soaked gelatin. Pour the mass thinly on a plate and reserve cool.
For the ice cream, bring the milk, vanilla and sugar to a boil and let the tea steep for 4 minutes. Pass through a sieve, cool the mass back to 45°C, dissolve milk powder and soaked gelatin in it and mix with the lumpy cream.
Freeze in frix or paco cups. For the pudding, bring the ginger and cream to a boil. Stir in the eggs, sugar and cornflour and slowly add the warm cream. Cook à la nape, cool to 50°C and blender with the cress.
Infuse cool for 2 hours and pass through a sieve. For the gel, bring all ingredients, except the cress, to a boil and allow to cool. Blender on the highest setting for 2 minutes, smooth with the cress and pass through a sieve.
Dress all components on the plate and garnish with the cress and the tuile.
***
Spa & Golfresort Weimarerland
Weimarer Str.60 – Blankenhain
T  0049 3645961640
www.golfresort-weimarerland.de
Recipe: Marcel Fischer
Source: Pâtisserie & Desserts - 49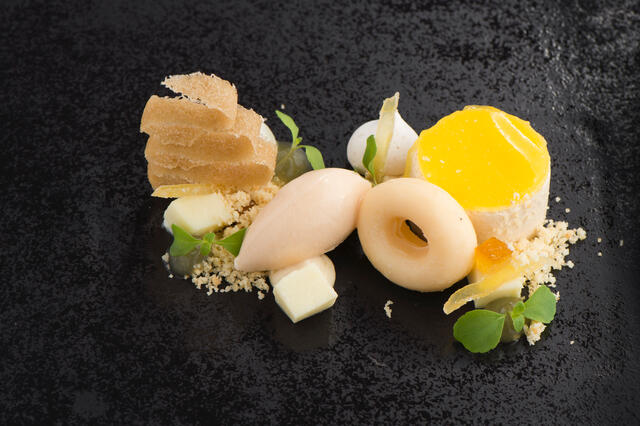 Related recipes
Gastronomical masterpieces
Related products
Say yes to the cress