Ingredients
For 4 portions
2 punnets Melissa Cress
100gr caster sugar
200gr strawberries
300ml water
1 pinch salt
150gr flour
100gr butter
3 eggs
vegetable oil for frying
Method
To make the Melissa Cress flavoured sugar blitz the caster sugar with one punnet of freshly cut Melissa Cress, reserve. 
For the churros, pour the water in a medium saucepan, add the salt and the butter, and bring to boil. 
Add the flour in the water in once and stir until the paste becomes smooth and homogenic. 
Transfer the paste/dough into a mixer and blend in the eggs one at the time. 
Dice half of the strawberries and fold them gently into the mix. 
Using a star pipping nozzle, place the churros mix into a pipping bag.  
Bring the vegetable oil to 180°C and pipe the mix into it, making long cylinders. 
Cook until golden brown and toss each churros into the Melissa Cress sugar. 
Serve with the rest of the strawberries and the other punnet of freshly cut Melissa Cress. 
Recipe: Franck Pontais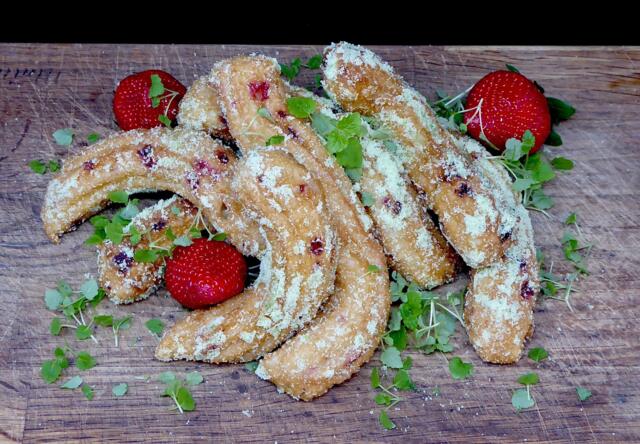 Related recipes
Gastronomical masterpieces
Related products
Say yes to the cress