Ingredients
(For 3 tacos)
½ punnet Rock Chives
½ punnet Adji Cress
160gr grated tofu
20gr sliced spring onions
60gr diced tomatoes
40gr green pepper julienne
1 tsp olive oil
1 small clove of chopped garlic
10gr chopped red chilli
¼ of a tsp ground turmeric
¼ of a tsp curry powder
50ml water
3 pieces of tortilla bread (12 to 15 cm across)
Method
Burn the tortilla bread slightly on both sides on a hot grill pan to add a smoky flavour to them. 
Pour the water in a saucepan with the grated tofu and cook for 1 minute, add the ground turmeric and curry powder to it and, cook for another 30 seconds and leave aside ready to use. 
Sizzle the julienne of green pepper in a hot pan with the olive oil. 
Mix the garlic, chilli, spring onions and diced tomatoes. 
Build the tacos and serve with freshly cut Rock Chives and Adji Cress. 
Recipe: Franck Pontais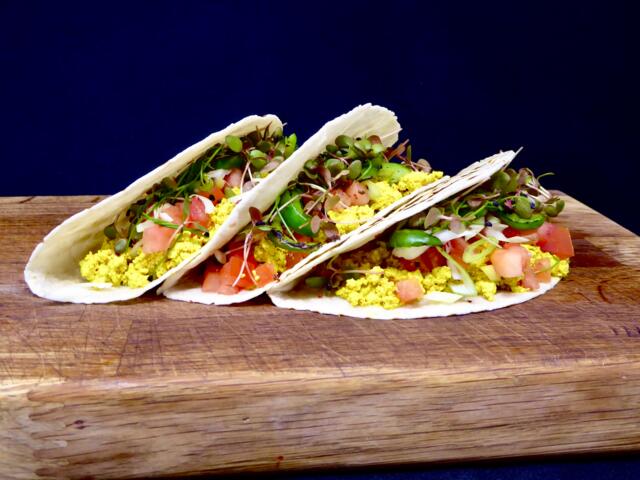 Related recipes
Gastronomical masterpieces
Related products
Say yes to the cress