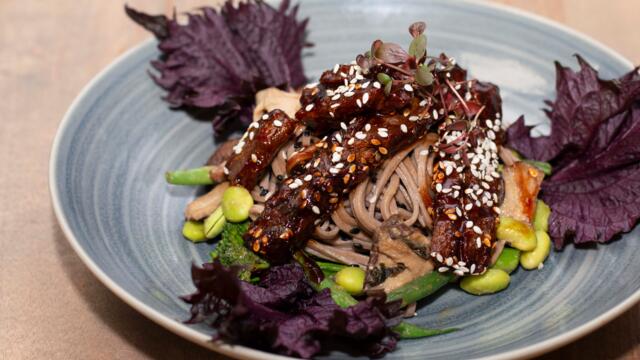 Sesame coated sticky Korean fried tempeh
Sesame coated sticky Korean fried tempeh with chard tender stem, edamame and green beans, marinated soba noodles.
Ingredients
Sticky Korean tempeh:
30g tamari soy sauce
20g gochujang paste
30g rice wine vinegar
40g agave syrup
15g sesame oil
20g black garlic paste
10g chopped ginger
160g rustic cut tempeh
5g toasted white sesame
5g toasted black sesame
Soba noodles:
200g dried soba noodles
15g tamari soy sauce
15g chilli oil
15g agave syrup
10g rice wine vinegar
Charred tenderstem, green beans and edamame:
6 pieces Shiso purple leaves
½ punnet of Adji Cress
100g tender stem broccoli
50g green beans top and tailed
30g podded edamame beans (frozen is fine)
1/3rd of the noodle marinade
Method
Sticky Korean tempeh:
In a frying pan heat the sesame oil then fry off the tempeh quickly to colour then remove from the pan.
Add the ginger and garlic paste to the pan and cook for a about 20 seconds, not to high or it will burn.
Now add the soy, vinegar, agave and gochujang and bring to a simmer and reduce until starting to thicken and bubble.
Add the tempeh back to the pan and coat in the sauce, once coated and fully mixed sprinkle with the sesame seeds.
Soba noodles:
In boiling salted water cook the noodles for 3-4 minutes so cooked but still have a little bite. Remove and drain (keep warm).
In a bowl combine the dressing, reserve a 1/3rd for the veg. then toss the noodles in the dressing and leave to sit for a few minutes. (Keeping warm).
Charred tenderstem, green beans and edamame:
Trim and cut the tender stem into small pieces along the stalk to keep nice branches but more manageable to eat (about the same size as the green beans).
Using the boiled salted water from the noodles or before you blanch the noodles, plunge the beans and broccoli for a minute to part cook remove and drain. Then pat dry with paper towel.
Take a griddle pan or griddle plate and heat. Once at a high heat colour the broccoli and green beans lightly so a nice charring is achieved.
Toss the vegetables in the dressing
To serve:
Place a ring in the centre of a plate and scatter a selection of the vegetables around the outside of the ring.
Using a meat fork or tongs twist a nest of noodles around, remove the ring and pile the noodles onto the veg in the gap.
Place nice pieces of the sesame tempeh onto the noodles and serve with Shiso Leaves Purple per portions and a little bunch of Adji Cress freshly cut.
Recipe: Steve Walpole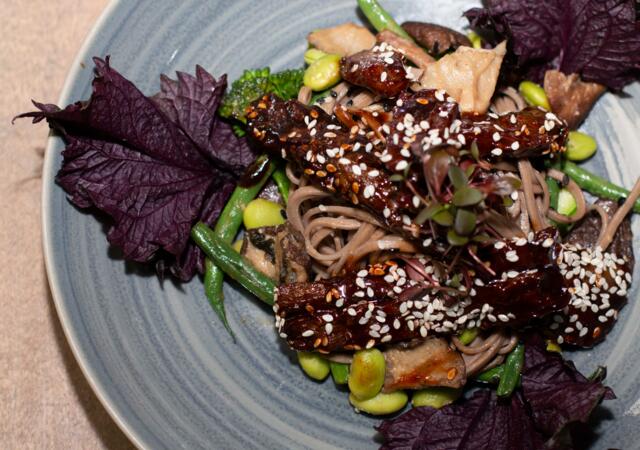 Related recipes
Gastronomical masterpieces
Related products
Say yes to the cress