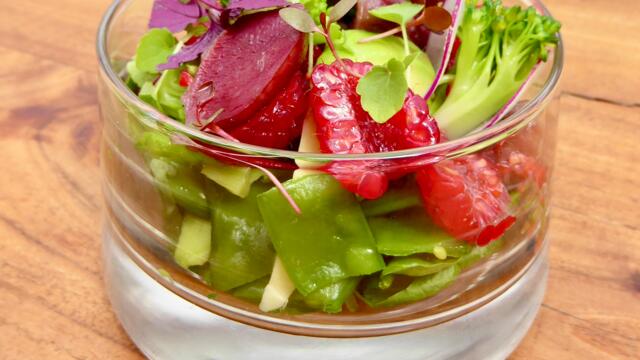 Salad of duck gizzard comfit, raspberry dressing
,
Adji Cress, Shiso Purple, Atsina Cress
Ingredients
(For 4 verrines)
120g duck gizzard comfit
80g cooked blanched mange tout beans
120g cooked blanched broccoli 
15g baby spinach leaves
40g sliced red radishes 
80g fresh raspberries sliced into half
60g fresh crushed raspberries
120g ripe avocado (sliced)
½ punnet Adji Cress    
½ punnet Shiso Purple    
½ punnet Atsina Cress  
2 tbsp olive oil  
1 tsp raspberry vinegar 
1 pinch table salt   
Method
For the dressing:
Emulsify the crushed raspberries, raspberry vinegar, olive oil and one pinch of salt.
For the salad:
Cut the cooked mange tout into 3 and cut the cooked head of broccoli into small pieces.
Using a small mixing bowl, fold all the ingredients in the dressing, except the cresses.
Cut the cresses into a bowl and fold them all together, use half of it in the salad.
Place the salad in a verrine glass, add the rest of the cut cresses on top of each glass and serve.                                                                                       
Additional information:
Shiso Purple is packed with biotin and vitamin B6 and pairs very well with Duck.
The word " Verrine" come from the French word "verre" meaning glass.
Verrines are very popular in France, it is simply a way of serving food in glasses specially designed for this purpose.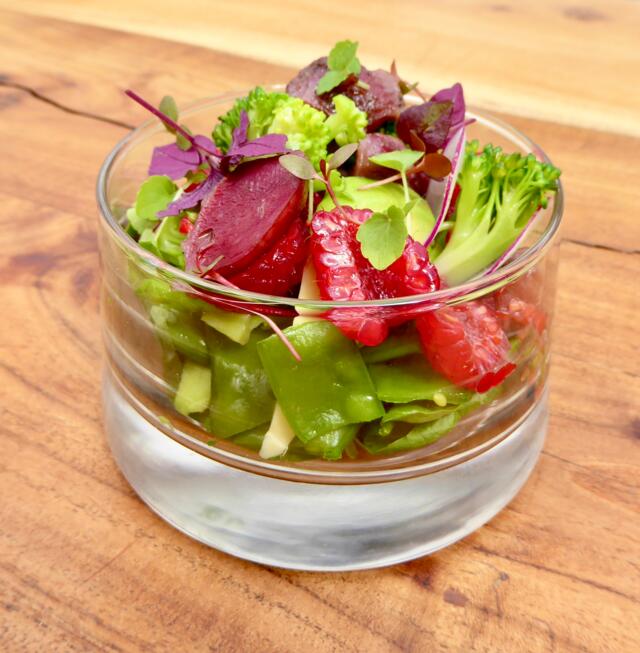 Related recipes
Gastronomical masterpieces
Related products
Say yes to the cress