Ingredients
(for 4 portions) 
1 punnet Borage Cress 
5 small pieces of sweet potato 
4 pieces of fresh figs   
1 tsp rapeseed oil 
3 tbsp olive oil   
1 tsp fig vinegar   
1 tsp balsamic vinegar reduction 
20g unsalted butter  
1 pinch fine sea salt   
1 pinch white ground pepper  
Methode
Cut all the sweet potatoes into two sideways and place on a baking tray, drizzle some olive oil and season well. Cook at 220℃ covered with a piece of tin foil, for 20 to 25 minutes.
Cut the fresh figs into quarters and roast them in the oven at 220℃ for 4 minutes maximum.
Once cooked, peel 6 half sweet potatoes, keeping 2 to crush with the melted butter and the other 4 to slice.
Place the equivalent of one tablespoon of crushed puree at the centre of each plate.
Place one half sweet potato on top of the puree and arrange the slices on top of those and add 3 wedges of roasted figs.
To make the dressing, emulsify the fig vinegar, the olive oil and the balsamic reduction vinegar.
Build the plate, finishing with the Borage Cress.
The contrast between the very soft sweet potato, the sweet and acidic dressing and the crunch and freshness of the Borage Cress is excellent.
Recipe: Franck Pontais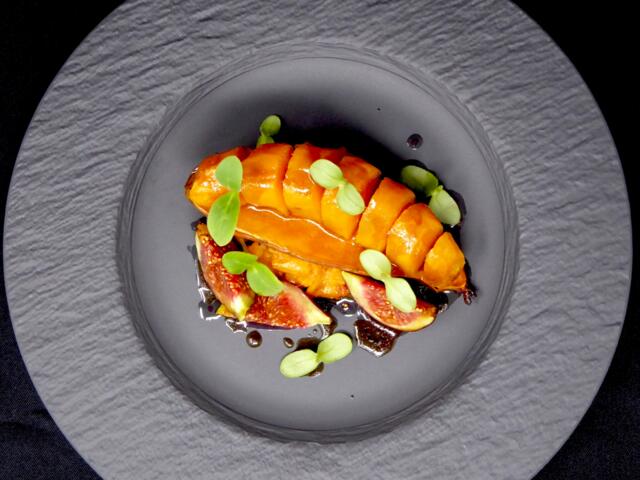 Related recipes
Gastronomical masterpieces
Related products
Say yes to the cress