Ingredients
(For 4 - 6 portions)
4 punnets BroccoCress
1kg sliced potatoes
350gr double cream
3 medium garlic cloves
4 to 6 small leaves of lettuce
2 pinches fine sea salt
1 tbsp olive oil
1 pinch white ground pepper
Method
Finely dice the garlic cloves.
Place the sliced potatoes, double cream, diced garlic and seasoning into a saucepan. 
Cook until the potatoes become soft, not fully cooked! 
Lay a baking non-stick paper in a small oven tray and arrange half of the slices of potato at the bottom, making sure that you are not leaving any gap. 
Add 2 punnets of freshly cut BroccoCress on top of the potato layer and finish to fill up the tray with the rest of the sliced potatoes, making sure that all the cream is also in the tray. 
Cook for 30 minutes in an oven at 220°C. 
Once cooked, lay a piece of baking paper on top of the tray and press gently with another tray or a chopping board. Leave the "press "on top until completely cold. 
Remove from the tray, cut into portions and serve with the remaining BroccoCress and a leave of lettuce (previously tossed into the olive oil).
Serve. 
Recipe: Franck Pontais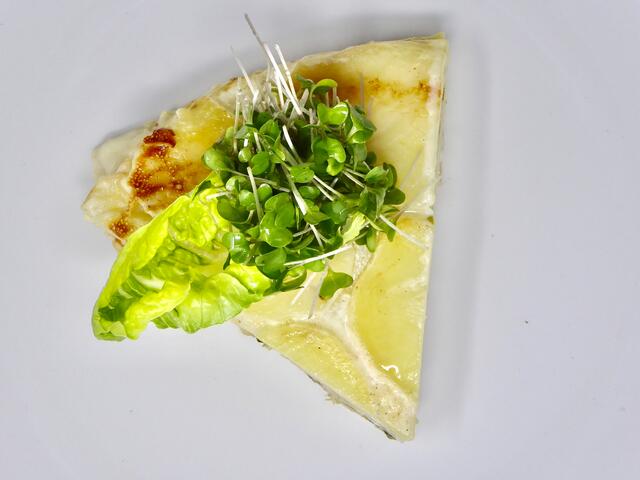 Related recipes
Gastronomical masterpieces
Related products
Say yes to the cress