Ingredients
(For 4 servings)
7 creuses
1 tray of Zorri Cress
1 sprig of dill
4 dill buds
2 pcs Moai Caviar
80 gr crème fraîche
10 gr salmon eggs
Esporao olive oil
1 teaspoon of powdered sugar
Bladderwrack (decoration)
Method
Oyster Cream:
Mix 3 creuses (with moisture) with crème fraîche to a smooth cream.
Zorri Cress / Dill Gravy:
Stick mix the Zorri Cress and raw dill smooth and add a little salt and icing sugar (Zorri Cress can be quite spicy, adjust the taste with the icing sugar).
Oysters format:
Open the other 4 creuses, loosen the oysters and turn them over in the shell.
Add the Zorri Cress / Dill gravy.
Spray some oyster cream on the desired areas.
Put some salmon eggs on it.
Top this off with Moai Caviar and dill buds.
Finally, drizzle some olive oil into the Zorri Cress / Dill gravy.
Recipe: Rick Kleijwegt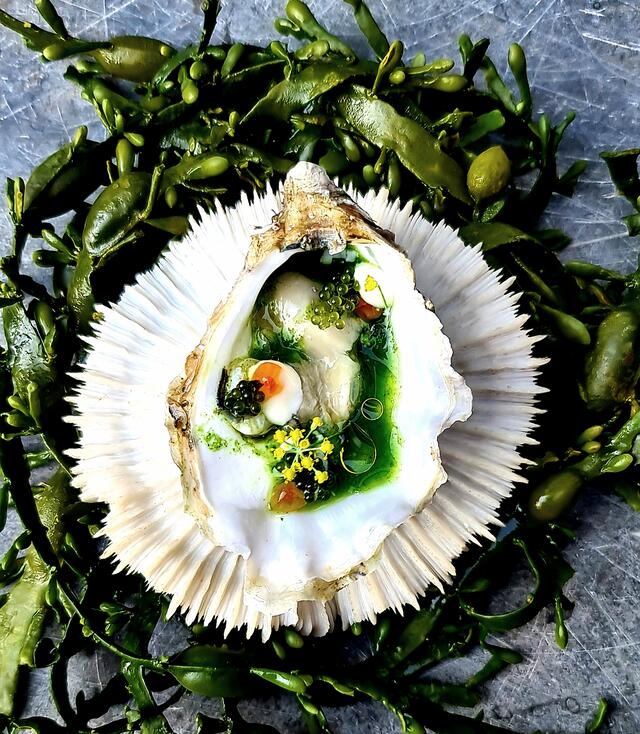 Related recipes
Gastronomical masterpieces
Related products
Say yes to the cress