Ingredients
125g dry aged bavette steak  
15g cornichons  
10g lilliput capers  
5g parsley  
12g mustard seeds  
25ml white wine vinegar  
20g tabasco mayonnaise  
5g smoked sea salt  
friselle bread loaf  
olive oil  
hens egg yolk   
10g tomato ketchup 
12g brown sauce  
4g soy sauce  
​
Method
Slice the friselle bread lengthways, brush with olive oil and bake to create the cracker.
Finely dice the parsley and cornichons. 
Pickle the mustard seeds in the white wine vinegar. 
Combine the sauces to make the dressing. 
Take the beef from the fridge and finely dice into 1/4 cm cubes.  
In a bowl combine the diced beef, capers, diced cornichons, parsley.  
Dress the beef with the sauces for the dressing.  
Using a metal ring to present the beef in a bowl, place the egg yolk on the top season with smoked salt dress the tartare with Zorri Cress. 
Finish the friselle cracker with tabasco mayonnaise, pickled mustard seeds, Mustard Cress and Atsina Cress.  
Recipe: Thomas Leatherbarrow
​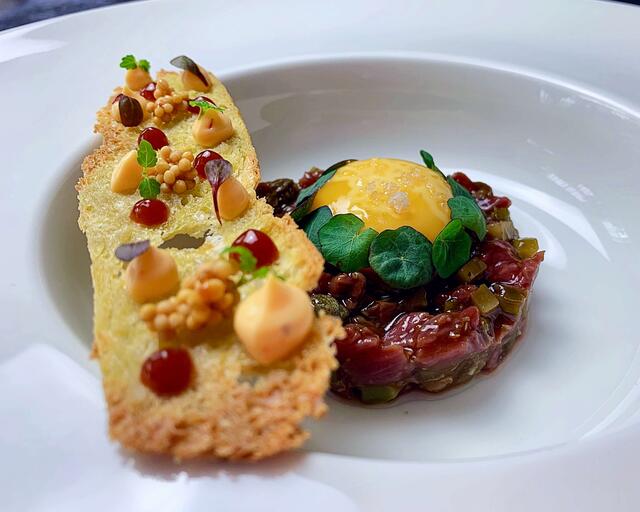 Related recipes
Gastronomical masterpieces
Related products
Say yes to the cress