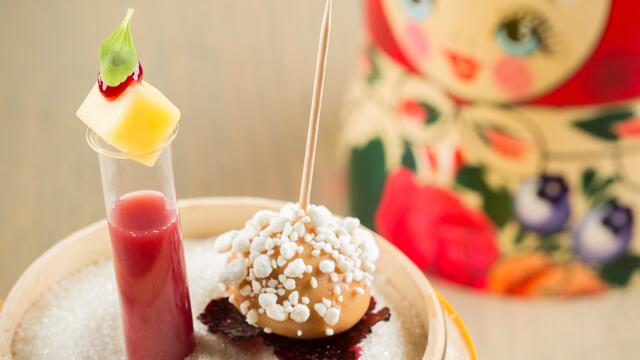 'Mors' with Atsina Cress and Honny Cress
Alexander Wulf of the St. Jacques restaurant: "It takes some intelligence from the chef, but once you have discovered the possibilities, and the flavors of the cresses are etched in your memory, the Cressperience for the guests can begin."
Ingredients
crispy tapioca chip with beetroot juice
Atsina® Cress
3 pears
3 mangoes
For the cranberry juice:
500 g cranberries
1 dl apple juice
1 dl rumtopf (red fruit pickled with rum)
1 dl raspberry juice
1 dl juice of blackcurrant berries
50 g Honny® Cress
For the juice of pear and mango:
5 dl pear juice
2 dl apple juice
2 dl mango juice
1 dl lime juice
1 vanilla pod
1 knife point gingerbread spices
2 dl juice of blackcurrant (for the red juice)
To strike out the lollipop:
50 g cocoa butter
50 g dark couverture
For the crispy with maltodextrin:
50 g white couverture
30 g cocoa butter
maltodextrin
For the gel of "Mors":
1 dl cranberry juice
1 g of agar
20 g Shiso Purple
Method
For the cranberry juice, boil all the ingredients, smoothen it in a blender and pass through a fine sieve. Reserve the it cool. For the pear / mango juice, halve the vanilla pod and remove the marrow.
Bring all the ingredients, except the juice of blackcurrant berries, to a boil and pass through a sieve. This is the clear variant. For the red variety, bring the same ingredients to a boil with the cassis berries and pass through a sieve.
Cut brunoise from the mango and pear, marinate the mango in the clear version and the pear in the red version. Freeze part of the cranberry juice in small spheres, insert a stick, melt the couverture and cocoa butter and pass the lollipops through it.
Serve them from the freezer. For the crisps, melt the couverture and cocoa butter and make coarse grains with the maltodextrin. For the gel, bring all the ingredients to a boil, pass through a sieve, allow to harden and blend smoothly.
Serve the "Mors" in a test tube, place a block of mango on top and finish with the gel and the Atsina® Cress. Dip the lollipop through the crisp and serve on the crispy tapioca with beet juice.
***
Burgstuben Residenz
Feldstrasse 50 - Heinsberg-Randerath
T 0049/245 330 6980
www.burgstuben-residenz.de
Recipe: Alexander Wulf
Source: Pâtisserie & Desserts - 52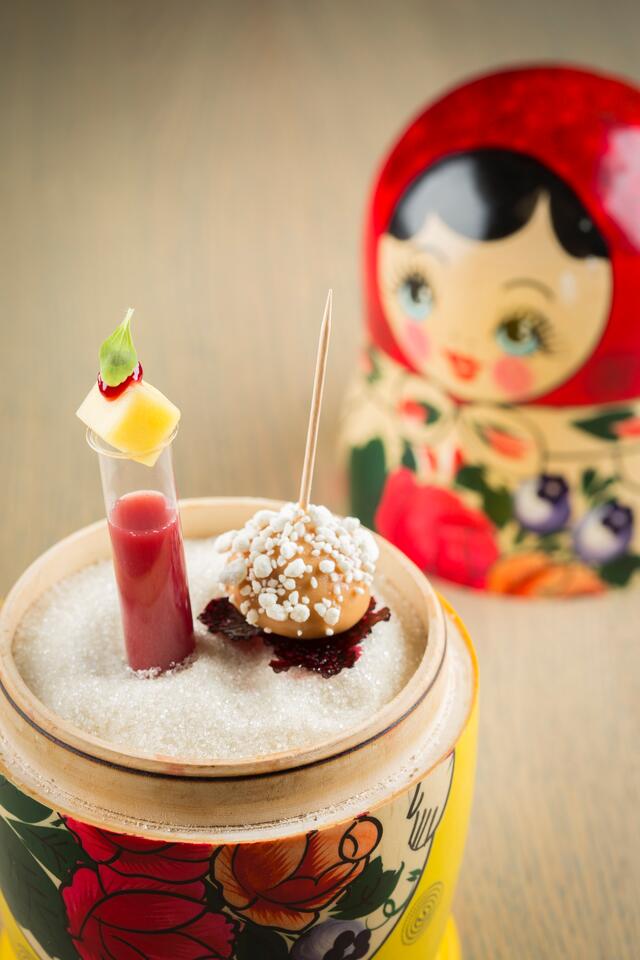 Related recipes
Gastronomical masterpieces
Related products
Say yes to the cress