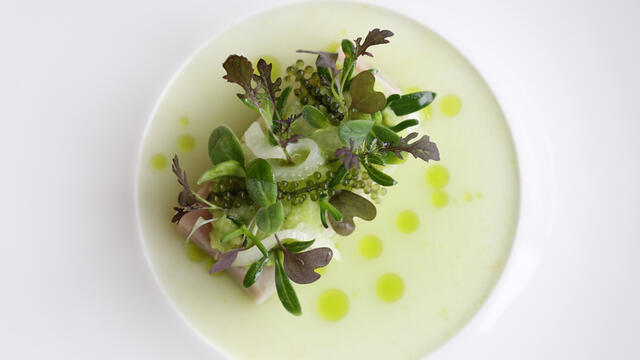 Mackerel, cucumber gazpacho, fennel, salty cresses
Ingredients
(For 4 portions)
2 pieces of mackerel fillet
1 cucumber
1/2 dl sushi vinegar
1 lime / lime juice
1 tbsp salt
4 pieces of Moai Caviar
12 sprigs of Borage Cress
4 sprigs of Sea Fennel
8 pieces Salty Fingers
1/4 piece fennel
1 tray of Kyona Mustard Cress
2 tbsp Kaffir Lime Leaves oil
Method
Peel the cucumber and mix it very finely in the Magimix together with the sushi vinegar, lime juice and salt.
Sieve the whole thing in a gossamer fine sieve, keep the liquid and the remaining pulp separately in a container.
Mix the cucumber pulp with 1 tablespoon of Kaffir Lime Leaves oil and keep it cool.
Divide the liquid from the cucumber mixture in half, use 1/3 for the fish and 3/4 for the gazpacho.
Cut the fennel into thin slices.
Wash the mackerel, debone them and cut the fillets into four equal pieces, vacuum these together with 1/3 of the liquid and the fennel in a vacuum bag and leave it in the refrigerator for 1 hour.
Remove the mackerel from the bag, pat it dry and keep the fennel aside.
Place the mackerel skin side on the plate and spread the cucumber pulp on top.
On top of the mackerel, place the cucumber, Sea Fennel leaves, 3 pieces of fennel, loose Salty Fingers, 3 sprigs of Borage Cress and Moai Caviar divided in half and a few sprigs of Kyona Mustard Cress.
Gently pour a little bit of the gazpacho over the mackerel and the rest around it, finish with some drops of Kaffir Lime Leaves oil.
This dish is highly flavoured by the salty cress and specialty and the spiciness comes from the beautiful brown Kyona Mustard Cress.
Recipe: Eric Miete
Related recipes
Gastronomical masterpieces
Related products
Say yes to the cress