Ingredients
For 8 people
Banana sponge cake
35 g whole eggs
85 g caster sugar
20 g whole milk
85 g banana
150 g oat flakes
85 g flour t45
3 g baking powder
15 g melted butter
Acai cremeux
Acai puree, no added sugar
200 g Les Vergers Boiron
60 g water
60 g caster sugar 
4 g NH Pectin 
12 g cornflour 
40 g butter 
Red fruit compote 
Red fruit puree, no added sugar
150 g Les Vergers Boiron
IQF red fruits Les Vergers Boiron
40 g sugar
80 g water
5 g gelatin powder
25 g water
Fromage blanc mousse
150 g double cream 35%
30 g caster sugar
3 g gelatin powder
15 g water
150 g fromage blanc
Whipped coconut ganache
Coconut cream, no added sugar
250 g Les Vergers Boiron
1 gelatin sheet
40 g white chocolate
125 g whipping cream 35%
Assembly
Red fruits
Shiso Purple
Bean Blossom
Citra Leaves
Method
Banana sponge cake
Mix the eggs and milk in the mixer, using the whisk.
Add the dry ingredients and mix.
Replace the whisk with the paddle.
Add the chopped banana and mix.
Next, add the melted butter and oat flakes.
Bake in a ventilated oven at 175°C.
Use a round cutter, 16 cm in diameter, to cut the sponge cake.
Set aside for the assembly.
Acai cremeux
Heat the acai puree without added sugar with the water in a pan.
Mix all the dry ingredients together in a mixing bowl.
Sprinkle the dry ingredients over the hot liquid and bring to the boil for 2 minutes.
Off the heat, at 45°C, add the butter and mix with a hand blender.
Pour into a round mould and freeze.
Set aside for the assembly.
Red fruit compote 
Soak the gelatin powder in water and leave in the fridge for 15 minutes.
Make a syrup with the water and sugar.
Add the red fruit puree without added sugar.
Then add the gelatin mass and mix until it melts.
Use the 16 cm diameter round with the banana spongecake inside.
Spread the IQF red fruit into the round, on top of the sponge cake, then add the warm mix on top.
Freeze and set aside for the assembly.
Fromage blanc mousse
Soak the gelatin powder in water and leave in the fridge for 15 minutes.
Beat the cream with the sugar.
Add the melted gelatin mass to the fromage blanc,mix rapidly.
Blend in the whipped cream.
Set aside for the assembly.
Whipped coconut ganache
Soak the gelatin sheet in cold water.
Heat the coconut cream with the cream, without boiling.
Take off the heat, add the soaked gelatin and white chocolate.
Mix with a hand blender and set aside in the fridge for 24 hours.
Assembly
Use the Silikomart "IO & TO" mould.
Pour in some of the fromage blanc mousse, then place the acai cremeux insert on top.
Add the rest of the fromage blanc mousse and insert the sponge cake with the red fruit compote.
Press to remove any surplus mousse and smooth over.
Freeze.
Prepare one white flocking mix and one purple flocking mix.
Remove from the mould and spray the dessert, partly with white flocking and partly with purple flocking.
Then pipe the whipped coconut ganache around the dessert.
Decorate with fresh red fruits, Shiso Purple, Citra Leaves and Bean Blossom.
Recipe: Thibault Marchand 
Source: Les Vergers Boiron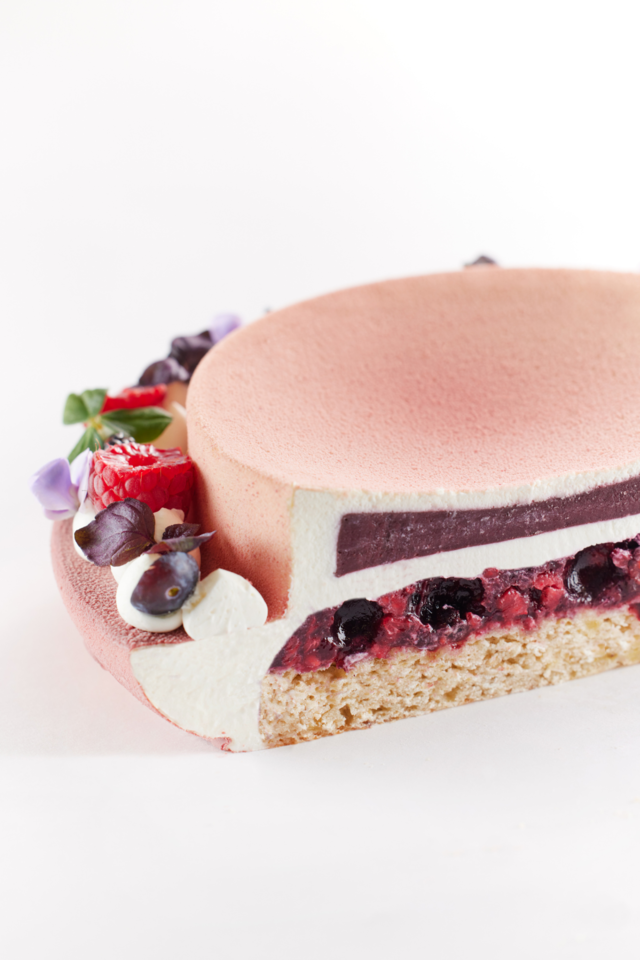 Related recipes
Gastronomical masterpieces
Related products
Say yes to the cress