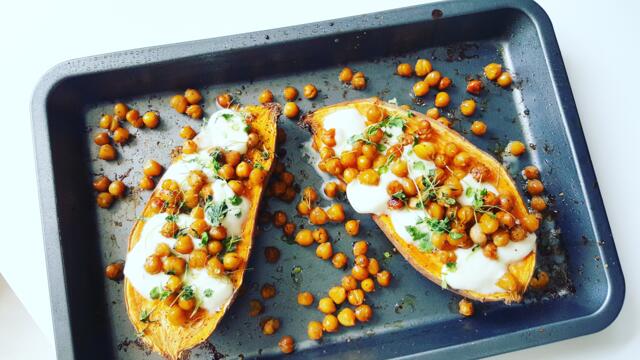 Delicious sweet potato from the oven with chickpeas, mozzarella and Atsina Cress
Source: Boost Your Health
Wow! Such a simple dish can be so tasty.
Ingredients
(For 1-2 persons)
1 large sweet potato
extra virgin olive oil
Moroccan herbs (you can also use your own herbs)
1 can of chickpeas
1 cup of Atsina® Cress
little salt and pepper to taste
1 scoop of mozzarella
Method
Preheat the oven to 220 degrees. Take a baking dish and cut the sweet potato in half and place it on the greased baking dish (this can be done with olive oil or coconut oil).
Add some spices and salt and pepper to taste and a little bit of olive oil. Then put the chickpeas over it and put it in the oven for about 20 minutes.
Take out the baking dish and cut the ball of mozzarella in small pieces and place it over the sweet potato and then put delicious Atsina® Cress over it and in the oven for another 5 min (until the mozzarella has melted). 
Remove the oven dish from the oven and place it on a plate and enjoy this delicious dish with some delicious fresh salad.
Source: Boost Your Health
Related recipes
Gastronomical masterpieces
Related products
Say yes to the cress