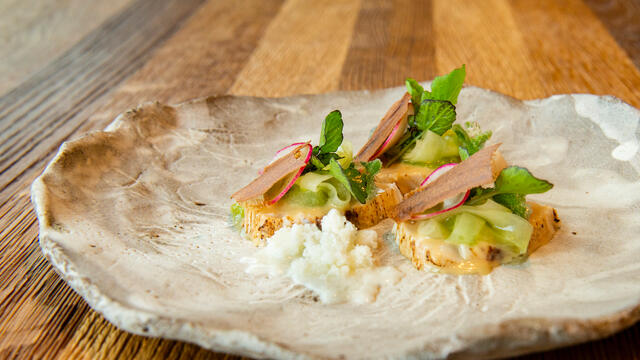 Marinated yellowfin mackerel, cucumber, buttermilk and Hippo Tops
Heiko Lacher's style in the kitchen? Pure and direct and based on fresh acids with light umami touches.
Ingredients
Yellowfin mackerel fillets
BlinQ Blossom®
Hippo Tops
radish
chips of sourdough bread
grate of horseradish
cucumber
For the marinade:
35 cl of water
30 g of salt
50 g of sugar
2 cl rice vinegar
1 tsp mustard seeds
10 g grate of horseradish
30 g of Shiso Green juice
1/2 bunch of dill
oil from Hippo Tops
For the pickled cucumber and gel:
2 dl freshly squeezed cucumber juice
6 cl white wine vinegar
30 g of sugar
5 g of salt
agar
For the buttermilk granite:
5 cl buttermilk
5 cl freshly squeezed rettich juice
salt
lemon juice
Methode
Bring all the marinade ingredients to the boil, marinate the mackerel fillets for 10 minutes and cut into slices.
Take part of the marinade, season with whole grain mustard and spoon over the fish. Cut ribbons of cucumber and marinate in the brine.
Boil 100 g of juice with 1 g of agar, turn it to gel and blender smooth. Mix all the granite ingredients, freeze in frix or paco cups and grind to grit.
Spoon this grit next to the mackerel and garnish with Hippo Tops and BlinQ Blossom®.
***
Restaurant Anima
In Wöhrden 5, Tuttlingen, Duitsland
Tel. 0049 7461 7803020
www.restaurant-anima.de
Recipe: Heiko Lacher
Source: Culinaire Saissonier 90 - Fall 2018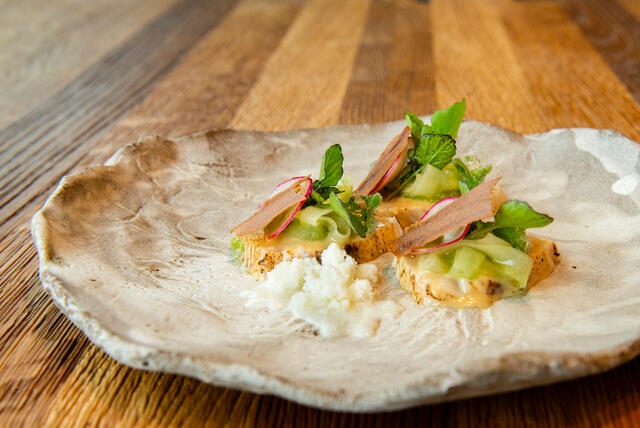 Related recipes
Gastronomical masterpieces
Related products
Say yes to the cress