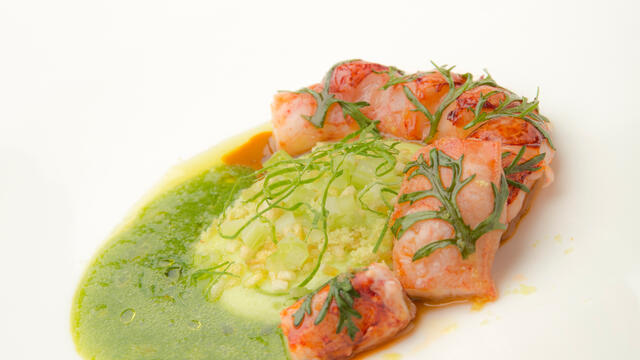 Candied European lobster, Kikuna Leaves, potato foam
Cyril Molard creates greatness through the combination of ingredients that have been thoughtfully combined in a minimalistic fashion, with craftsmanship as the connecting factor.
Ingredients
2 European lobsters
lemon verbena
fleur de sel
Kikuna® Leaves
clarified butter
green celery in brunoise
finely cut green celery leaf
radish
wasabi powder
fried potato brunoise
For the potato foam:
250 g of potatoes
90 g garlic and parsley cream
60 g of potato boiling wet
30 g of olive oil
salt
For the green celery oil:
1 l grape seed oil
200 g of green celery leaves
10 g of salt
For the juice of celery and Kikuna Leaves:
200 g of green celery
10 g Kikuna Leaves
2 g xanthana
For the lobster gravy:
1 kg carcasses of lobsters
100 g onions
20 g shallots
50 g of carrot
50 g of tomatoes
20 g of tomato paste
50 g of celery
50 g of fennel
1 l of water
olive oil
Method
Heat the clarified butter with the verbena and add the shelled lobster tails and legs and leave to preserve for 5 minutes. Add the Kikuna Leaves®.
Remove the tails and leg from the confit and drain well. Place the lightly cooked Kikuna Leaves on the lobster meat.
For the foam, boil the potatoes in some salted water, drain and keep 60 g of the cooking water. Blend the potatoes with the cream, the cooking water, the oil and salt and pass through a sieve.
Pour the mass into a siphon, aerate with 2 gas cartridges and reserve warm.
Heat the grapeseed oil to 83°C and add the celery leaves, steep for 1 minute and quickly cool the pan back.
Blend the contents very finely, pass through a cloth, fill a spray bottle and keep aside. For the juice, centrifuge the celery with the Kikuna Leaves and bind with the xanthana.
For the gravy, soak the carcasses in the hot oil and add the bouquet. Add the tomato paste and deacidify. Add the tomato and fill with water.
Cook gently for 90 minutes, reduce to 3/4, pass through a sieve, season and assemble with some olive oil.
Dress the tail and leg on the plate, spray the potato foam in the middle and add the other garnishes. Season with lobster gravy, celery juice and the celery oil.
***
Ma Langue Sourit
1, rue de Remich, Moutfort
T. 00352/263 520 31
www.mls.lu
Recipe: Cyril Molard
Source: Culinaire Saisonnier 82 - Fall 2016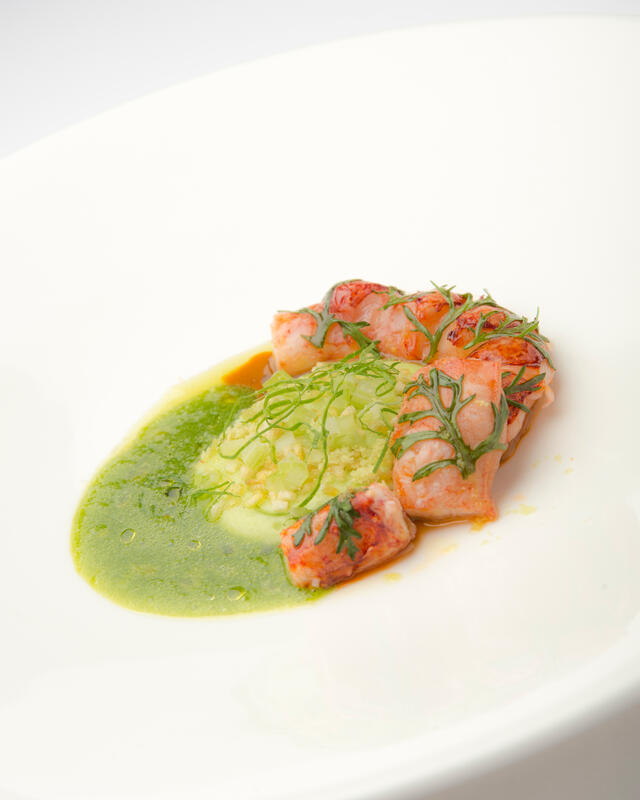 Related recipes
Gastronomical masterpieces
Related products
Say yes to the cress