Ingredients
For the gnocchi
750g potatoes, peeled
150g flour
1 pinch of sea salt
1 organic egg
1 tablespoon of beetroot powder
¼ tsp turmeric
2 sprigs of fresh thyme
olive oil/alternative organic coconut oil
For the paprika-tomato sauce
200g red peppers, cleaned
200g cherry tomatoes, washed
1 tablespoon of olive oil
salt and pepper from the mill
agave syrup
Refine
40ml apple juice
1 tsp tomato puree
350ml Light Vegetable Stock
40g butter
Cornabria Blossom
Tahoon Cress
Kyona Mustard Cress
Method
For the gnocchi
Boil water. Boil the potatoes in it for about 20 minutes until soft make a puree. Add the flour and egg and mix everything.
Halve the dough. Put the turmeric in one half of the dough, and the beetroot powder in the other half and mix. Shape each half into a roll of dough and connect both into a two-coloured roll.
Cut the entire roll of dough into 1cm pieces.
Roll each piece and press down with a fork.
Put the gnocchi in the pan with olive oil and fresh thyme.
Sear.
For the sauce
Fry the vegetables in the pan with olive oil and herbs.
Add tomato puree and deglaze with apple juice.
Top up with stock, boil briefly and mix with the butter in the smoothie blender.
Garnish with flowers and cresses and serve.
Recipe: Marcel Thiele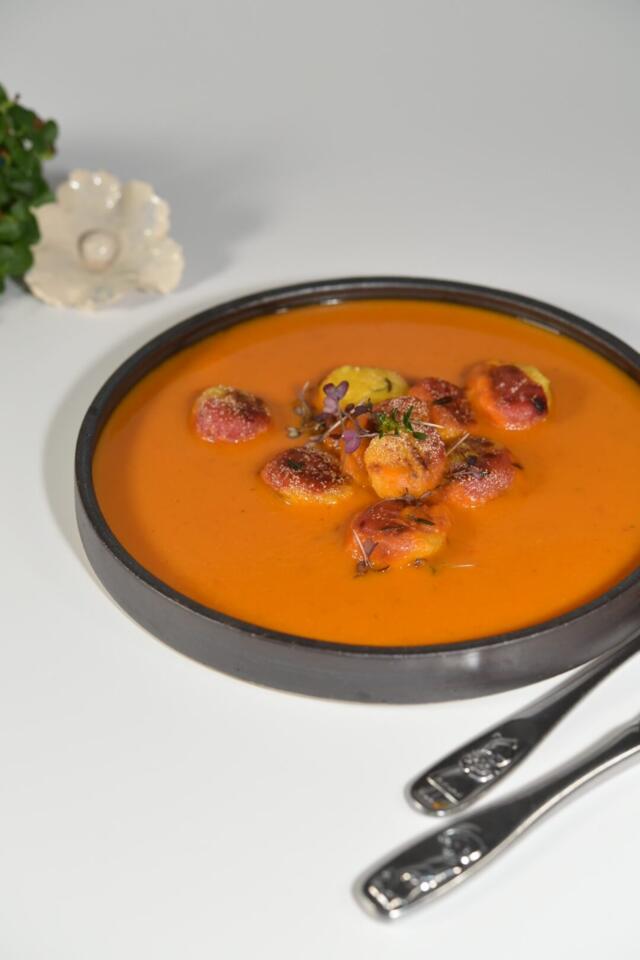 Related recipes
Gastronomical masterpieces
Related products
Say yes to the cress