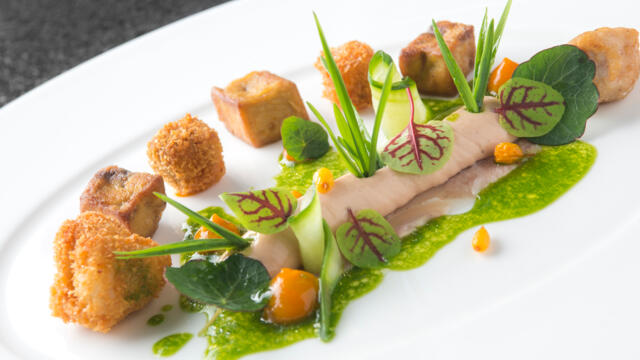 Goose liver, Wheat Grass, veal brawn
Mathias Maucher has a kitchen that has a feel for the region, but also wants to open up to the world.
Ingredients
100 g of veal brawn
veal thymus
veal brain
flower
egg
bread-crumbs
foie gras
Wheat Grass
Vene Cress
capuchin leaf
cucumber gel
sea buckthorn berries
salted cucumber slices
For sea buckthorn gel:
100 g frozen sea buckthorn berries
5 cl of water
50 g of sugar
1 g of agar
For the Wheat Grass vinaigrette:
1 dl juice of Wheat Grass
white balsamic vinegar
tarragon vinegar
1 tbsp olive oil
salt
sugar
cayenne pepper
For the goose liver cream:
100 g foie gras terrine
4 cl cream
3 g leaf gelatin
6 cl lobed cream
white port
Madeira
salt
cayenne pepper
Method
For the gel, bring water and sugar to a boil, pour on the berries and reserve closed for 1 week. Puree the mass, rub through a sieve, weigh 1 dl, bring to the boil with the agar, gel and blender smooth.
For the vinaigrette, mix all ingredients. For the cream, dissolve the soaked gelatine in the cream, blender smooth with the terrine, rub through a sieve and mix with the other ingredients.
Cut 4 thin slices of the pressé and the rest into cubes as well as the sweetbreads, the brains and the foie gras. Bread the cubes of tureen, brains and thymus à l´anglaise and fry.
Bake the foie gras. Place the pressé on the plate and spray the cream on it. Add the other components, garnish with the cress and the gel and finally add the vinaigrette.
***
Himmel un Äd
Kaygasse 2, Keulen
Tel 0049 221 200 80
www.hotel-im-Wasserturm.de
Recipe: Mathias Maucher 
Source: Culinaire Saisonnier 83 - Winter 2016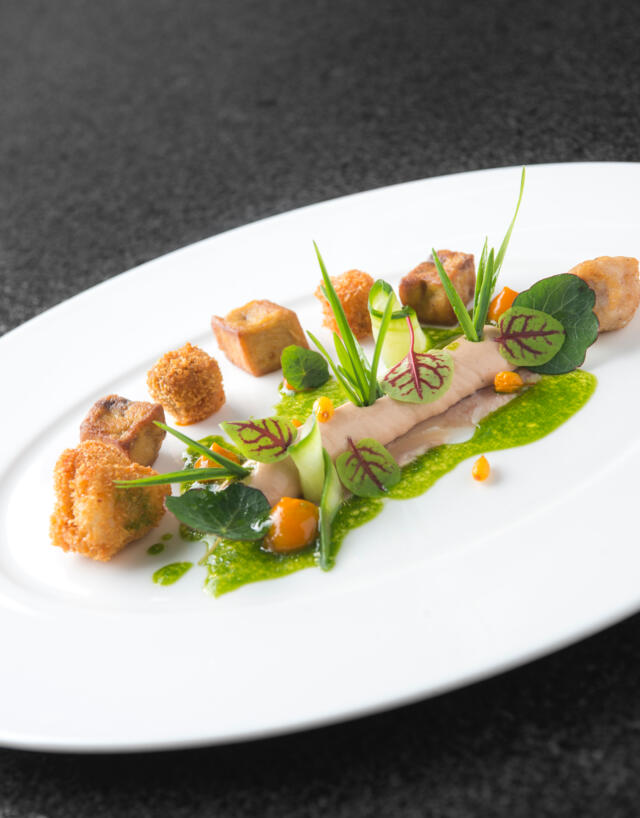 Related recipes
Gastronomical masterpieces
Related products
Say yes to the cress