Ingredients and methods
Black cod: 
8 slices of Black Cod á 40 g 
1l brine 5% 
Soak the ready-to-cook black cod in the brine for 60 minutes and dab dry. Flame on both sides with a blow torch and fry the fish protein in a pan. Fry the fish with a little olive oil for 3 minutes. 
Kai Lan:
200 g Kai Lan 
50 g butter 
Salt 
1 piece mace 
Clean and wash the Kai Lan. Foam the butter with the mace once. Add the dripping wet leaves and toss them only briefly in the butter. Season with salt. Finely slice the stems on a slicer. 
Lentils:
100 g Beluga lentils 
20 g olive oil 
30 g vegetable bruniose 
2 g Ducca spice mix 
300 ml vegetable stock 
salt 
20 g Kumars green curry paste 
4 g Koikuchi Shoyu 
2 Kaffir Lime Leaves 
Cover the Beluga lentils with water and leave to soak in the refrigerator for 12 hours. Heat the olive oil and sauté the vegetable cubes with the soaked lentils and ducca. Add all the ingredients to the lentils and bring to the boil. Simmer for 15 minutes until the lentils are cooked. 
Lentil cream: 
100 g red lentils 
400 ml coconut water 
50 ml coconut milk 
5 g ginger 
1 piece star anise 
3 cloves 
1 piece cinnamon 
40 g coconut fat 
20 g tomato paste 
4 g tomato concentrate Umami Antoniewicz 
Sweat the lentils in the coconut fat and stir in the tomato paste. Add the spices and fill up with the coconut water and cook the lentils until soft. Remove the spices and finely purée the still warm mixture with the coconut milk. 
Recipe: Heiko Antoniewicz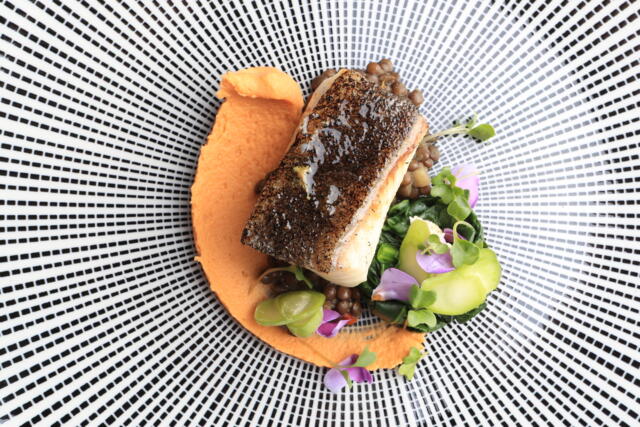 Related recipes
Gastronomical masterpieces
Related products
Say yes to the cress