Ingredients
Swiss roll: 
4 eggs  
90g caster sugar  
30g terra rossa cocoa powder  
70g plain flour  
Shiso crème diplomat:  
20g Shiso Leaves Green 
4 egg yolks  
60g caster sugar  
20g plain flour  
30g corn flour  
290ml whole milk  
250ml double cream  
Tahoon Cress
Method
Swiss roll: 
Whisk eggs and sugar together until tripled in size.
Sieve flour and cocoa powder together and fold into the egg mixture in 3 parts.  
Spread onto a lined baking sheet, bake for 8 minutes 160°C.  
Allow to cool completely.  
Shiso crème diplomat:  
Blanch the Shiso Leaves Green in boiling water for 5 minutes.
Whisk the egg yolks, sugar and flours to a smooth paste.
Boil the milk with the Shiso Leaves Green once boiled pour over the egg mixture and return to the pan cook out 12 minutes low heat allow to cool in the fridge.
Semi peak the double cream, beat an equal quantity of the cold crème pâtissier fold in an equal quantity of the cream to make the crème diplomat.
Spread an even layer of the crème diplomat over the cool sponge sheet gently roll to form and even cylinder with an even snail shell pattern in the centre. 
Blitz 50g milk chocolate to make the chocolate crumb.
To serve with blackcurrant ice cream, grape jam, and a few leaves of Tahoon Cress.  
Recipe: Thomas Leatherbarrow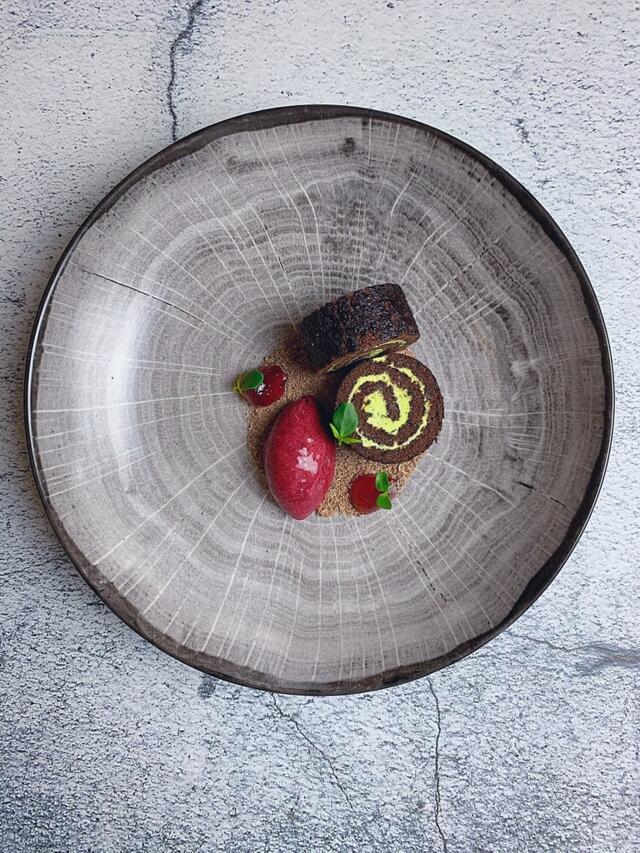 Related recipes
Gastronomical masterpieces
Related products
Say yes to the cress