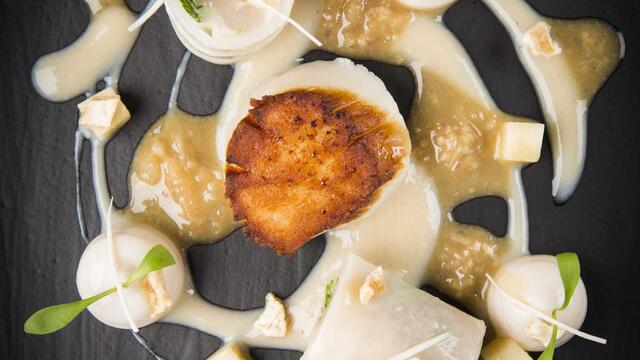 Scallops, banana, rettich
Anton Schmaus aims for a kitchen that respects the hinterland and produces simple yet perfectly prepared dishes.
Ingredients
4 scallops St. Jacques
banana cubes
dried scallop
Ghoa Cress®
fine rettich brunoise
horseradish
For the scallops cream:
100 g crème fraîche
100 g of scallop meat
20 g ginger root
1 tbsp cane sugar
1 tbsp tamarind paste
1 tsp horseradish cream
For the banana sauce:
100 g banana puree
10 g of lemon juice
10 g of tamarind paste
5 g ginger root
10 g of horseradish cream
1 tsp cane sugar
salt
For the banana vinaigrette:
200 g of brown butter
25 cl chicken stock
100 g of horseradish cream
50 g of tamarind paste
For the roll of rettich and Ghoa Cress:
50 g of brown sugar
80 g rettich julienne
rice paper
Ghoa Cress
30 g small cubes of scallop meat
30 g of scallop cream
Method
For the cream, blend all ingredients until smooth and reserve cool in a piping bag. Blend all the ingredients for the sauce, pass through a fine sieve and season with salt.
Reserve the sauce lukewarm. Mix all the ingredients for the vinaigrette, season with salt and the horseradish grater and add the rettich brunoise.
For the roll, make a liquid caramel of the brown sugar and 1 dl water, pour on the rettich julienne and reserve cool.
Put the rice paper in water for 1 minute, spread it on a lightly oiled surface, arrange the rettich julienne, the scallop cubes, the cream and the cress and make a roll.
Smooth the roll with the banana sauce and slice. Fry the scallop in oil and arrange in the centre of the plate. Add 2 rolls and spoon the sauce and vinaigrette around it.
Garnish the dish with the Ghoa Cress®, dried scallop and the banana cubes.
***
Storstad
Watmarkt 5, Regensburg
Tel. 0049 9415 999 30 00
www.storstad.de
Recipe: Anton Schmaus
Source: Culinaire Saisonnier 81 - Summer 2016
Related recipes
Gastronomical masterpieces
Related products
Say yes to the cress